Photo: Bill Streicher, USA Today Sports
Important Note: This article originally appeared on 7-3-16. It has been updated to include the fantasy impact of the Arian Foster signing.
MIAMI MOVEMENT
There were many people in the Miami organization this time last year that are not present today. Head Coach Joe Philbin was fired just four games into the 2015 season. After taking over for Philbin on an interim basis, Dan Campbell brought much-needed aggression and passion to the team. They won their first two contests under Campbell, but ultimately fizzled to finish the season 6-10. When Owner Stephen Ross hired offensive wunderkind Adam Gase, Campbell chose not to remain with the team and was released from his contract. Olivier Vernon was originally transition tagged, but ultimately signed a large deal with the Giants. Receiver Rishard Matthews became a Tennessee Titan. Defensive end Derrick Shelby joined the Falcons. Cornerback Brent Grimes was released outright.
The exit that attracted the most attention from the fantasy community came at the running back position. The underutilized Lamar Miller left for a high-dollar deal with the Texans in free agency. Behind him on the depth chart remains an interesting 2015 rookie who was hyper-productive in college, but who has some concerns that are hard to ignore. That player is Jay Ajayi.
AJAYI CAN FLY
There is much for which to praise Ajayi as a player. Matt Waldman compares Ajayi's running style to "a wild horse." Recent On The Couch podcast guest Rich Hribar compared Ajayi to a dreidel, a four-sided spinning top that bobs and weaves as it keeps its balance. Note those traits on the clip of Ajayi below as he avoids the grasp of Preston Brown to gain extra yardage.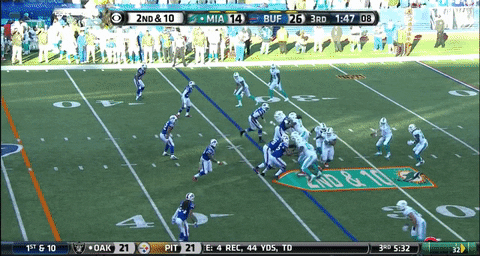 While Ajayi didn't get a ton of playing time as a rookie, he did show well on his limited touches last year. Foot usage and frequency is something that really stands out while watching him run. We love football players who have backgrounds in other sports, as it sometimes develops aspects of their game that wouldn't have otherwise been tapped. Ajayi is a former soccer player and this may explain why he is so adept at keeping his feet moving with fluidity. This attribute also allows him to seamlessly change direction. He has excellent burst through the hole and balance to maintain his feet when contact is initiated by the defender.
Part of Ajayi's value is tied to the Dolphins' offensive line. Our offensive line guru Matt Bitonti believes that Miami is among the mid-tier of NFL lines, ranking them 16th in his latest Offensive Line Rankings. He won't be running behind a great unit, but neither will he be running behind one of the worst lines in the NFL. Ajayi has shown ingenuity and wiggle on his runs, creating when daylight is scarce.
Another attractive thing about Ajayi's situation is that his Head Coach has historically relied on a featured back in his offenses. Adam Gase's recent comments regarding running backs show his intent to make Ajayi yet another back in that vein:
"You have to be able to do it all. It's not a one-trick pony type of offense. You have to be able to protect. You have to be able to run the ball. You have to be able to catch. So we really don't believe in 'Hey, you're just a first and second down back.' I don't know what that means. We look for guys that can stay on the field all three downs because we're not looking to sub personnel."
NO WAY, JAY
Owners have been spooked by the interest that the Dolphins have shown other running backs since Miller walked. Miami then signed restricted free-agent C.J. Anderson to an offer sheet, only to have Denver match the offer before the deadline. Miami then flirted with Arian Foster and decided to wait and see how his rehab progressed. They signed ex-Dolphin Daniel Thomas merely as a depth option. In late July, the team finally did feel confident enough to sign Arian Foster to a one year, 1.5 million dollar deal with 2 million in incentives. However, Foster has an uphill battle back to prolonged fantasy relevance. It takes players time to have the same explosion and effectiveness after tearing an achilles. He also has chronic soft tissue issues to contend with. We've seen enough of Ajayi on the field to know that there is real talent there that probably makes the aged Foster an afterthought. The money given to Foster seems to indicate that he's a low-risk, injury insurance option rather than a true challenger for Ajayi's job.
The condition of Ajayi's knee has been the most memorable worry for him. He sustained a torn anterior cruciate ligament in his right knee in college. At the 2015 NFL Combine, reports surfaced that teams were concerned he had a degenerative condition that may need microfracture surgery in the future. Previously considered a lock to be a second-round pick by the scouting community, Ajayi fell all the way to the fifth round before the Dolphins selected him. While not imminently a problem, it's very possible that Ajayi could need a procedure at some point during his career.
Though a productive receiver in college, there are some questions about his receiving ability at the pro level. This may be part of the reason why the team took pass-catching back Kenyan Drake in this year's Draft. Ajayi has struggled with drops in OTAs and needs to improve his concentration if he is to reach his full potential as a do-it-all runner. At times, Ajayi can also get too aggressive for his size and run at defenders instead of trying to avoid punishment.
POSITIVES
A productive player in college, Ajayi also showed well in limited work as a rookie in 2015.

Ajayi has excellent burst, movement, balance, and change of direction skills.

Adam Gase intends to make Ajayi his featured runner, something becoming less common in the NFL.
NEGATIVES
The Dolphins flirted with other running backs and signed Arian Foster, leaving some to suspect they don't believe in Ajayi.

Health concerns are the primary question for Ajayi. His right knee may need microfracture surgery at a future date.

Ajayi needs to work on catching passes and not taking unnecessary punishment at the hands of the defense.
FINAL THOUGHTS
The Foster signing in Miami could be a blessing in disguise for those targeting Ajayi in redraft formats. Ajayi is still going in the fifth or sixth round at the time of this writing, but expect his price to steadily begin to decline. His stock had really been heating up before Foster came to town. You will be able to grab Ajayi later than you would have been able to before.
In dynasty formats, Ajayi is a little bit more of a high-risk, high-reward situation because of the long-term uncertainty about his knee. Unfortunately, the Foster signing is going to artificially decrease his value and make him a hold. Count on his stock to rebound when things play out on the field.
BOB HENRY'S PROJECTIONS
| | | | | | | | | | |
| --- | --- | --- | --- | --- | --- | --- | --- | --- | --- |
| G | RSH | YD | Y/R | TD | REC | YD | Y/R | TD | FPT |
| 16 | 210 | 900 | 4.2 | 7 | 38 | 335 | 8.8 | 2 | 216.50 |
JASON WOOD'S PROJECTIONS
| | | | | | | | | | |
| --- | --- | --- | --- | --- | --- | --- | --- | --- | --- |
| G | RSH | YD | Y/R | TD | REC | YD | Y/R | TD | FPT |
| 16 | 200 | 820 | 4.1 | 6 | 28 | 225 | 8.03 | 1 | 174.50 |
OTHER VIEWPOINTS
Our Sigmund Bloom thinks that Ajayi is still the clear choice in your draft:
Unless you just don't believe in Ajayi, he should be considered the more valuable back in drafts. Ajayi's ADP is in for a tumble, and Foster's should rise based on his reputation as a week and league winner, but recent history suggests that Ajayi will be the more valuable back by year's end, and maybe even the only one that can help your fantasy team in November and December. With local writers painting a picture of Ajayi likely being as or more valuable than Foster going into the season, the shark move here will be to buy Ajayi as his ADP falls and hope that Foster stays healthy through training camp and the preseason so the discount stays intact through all of our drafts leading up to Week 1.
NFL.Com's Matt Franciscovich believes Ajayi is a breakout candidate:
"With a Round 6 ADP, Ajayi is a top mid-round running back target for those who are employing a 'Zero RB' draft strategy, or anyone looking for high-upside lead backs in the middle rounds. Some have questioned his ability to catch the ball out of the backfield following reports during mini camp that he 'dropped a few balls', but he logged 50 receptions in his final college season and this drop issue is nothing more than a June trope that's being blown way out of proportion."
Pro Football Talk's Mike Florio questions whether or not Ajayi can catch passes and keep his job:
"If Ajayi wins the starting job in Miami this year, he'll be getting a lot more chances to catch passes. To keep the job, he'll need to actually catch the passes."