Photo: Jasen Vinlove, USA Today Sports
Unlock More Content Like This With a Footballguys Premium Subscription
"FBG is the best fantasy football advisory service anywhere."
Nigel Eccles, Co-Founder, FanDuel
From Investopedia, emphasis mine:
Arbitrage is the simultaneous purchase and sale of an asset to profit from a difference in the price. It is a trade that profits by exploiting the price differences of identical or similar financial instruments on different markets or in different forms. Arbitrage exists as a result of market inefficiencies.
In other words, arbitrage is finding a useful discount by plucking high-level assets at mid-level cost – certainly less than what other, less-informed consumers are paying for their (similar) assets. It's striking gold at far, far below gold prices.
We all love discounts, and in fantasy football, we need them. Leagues aren't typically won and lost by the owners who identify the "correct" top-3 wide receiver with their first pick. They're more often decided by those who mine WR1 production in Round 5 and WR2 production in Round 8. Identifying the cheap studs – and the expensive underperformers – is essential.
With that in mind, let's look at the three arbitrage plays that stick out most to me at the wideout position, based on ADP data from Fantasy Football Calculator. Remember, the key here isn't merely to find production – it's to find it cheaper than most are forced (willing?) to pay.
Instead of buying Martavis Bryant at 4.11 (WR23), sit tight and grab Rishard Matthews at 11.06 (WR51)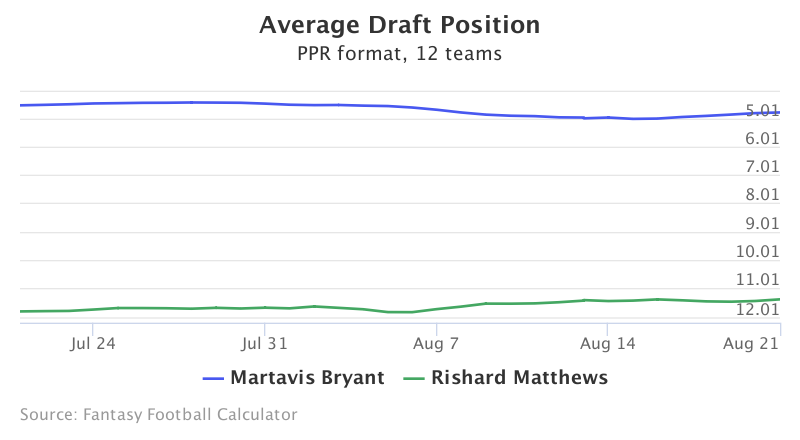 Savings: 79 spots
I've beaten the Matthews drum all summer, and readers of mine might be sick of it. But I'll keep it up, considering his ADP has cratered following the Titans' additions of Corey Davis and Eric Decker. I'm not panicking: Davis looks like an early-season afterthought unlikely to contribute much as the No. 3 wideout, and Decker is 30 and returning from two major 2016 surgeries while adjusting to a new offense. And Matthews is still firmly entrenched as a starter. Why are we letting the incumbent plummet in our drafts while knocking over old ladies to scoop up the new additions?
Let's not forget just how good Matthews was last year: he finished as the PPR WR19 (WR13 over the final 13 weeks) by way of dominating the Titans' wideout corps (40.0% of wide receiver targets). It was no fluke, either – Matthews was remarkably efficient in Miami in 2015 as well. Over these past 2 years, he sits 8th leaguewide in yards per target and 17th in touchdown rate (minimum 100 targets). Yes, he's been creating touchdowns – and fantasy points – on (and often above) Bryant's level.
And the most important factor? Matthews isn't one failed drug test and/or conduct issue away from an indefinite, Justin Blackmon-esque ban from the league. I know that the shrewd fantasy player doesn't try to predict injuries or suspensions, but we have to take note when a guy is teetering on the brink of a massive layoff. And Bryant, who's missed/failed multiple drug tests to this point, is doing exactly that. He's such a tantalizing talent and producer that we shouldn't cross him off our draft boards altogether, but we also shouldn't be scooping him up in a true premium round like four or five. That's a serious degree of risk, one I'm not comfortable with at all.
And furthermore, Bryant isn't exactly Josh Gordon. He's been an explosive fantasy producer, but not some mythical top-five dominator sitting just one incident-free season from winning you your league. Bryant is the clear No. 2 in Pittsburgh, but that's a deep backseat when Antonio Brown is dominating targets. He's no sure thing to top LeVeon Bell in targets, either. Bryant hasn't seen more than 71% of Steelers snaps in either of his seasons; through 21 career games alongside Brown, he's caught 3 or fewer passes in 11 of them.
Suggestion: Rather than take the dive on Bryant in the fourth, go for an elite tight end like Greg Olsen or Jordan Reed – or a much more stable PPR WR2 option like Larry Fitzgerald. Snagging Matthews seven rounds later brings a similar WR2 ceiling with no muss, no fuss.
Instead of buying Keenan Allen at 3.08 (WR16), hold off and scoop Pierre Garcon at 7.03 (WR34)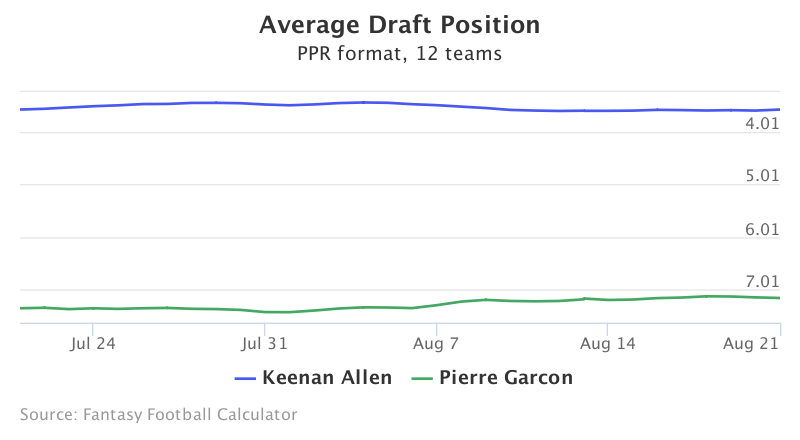 Savings: 43 spots
So you're in the market for an ultra-reliable, volume-happy PPR guy? Allen may not be the man for you.
Of course, there are the injury concerns – and they're plentiful. I generally don't believe in the term "injury-prone," but it's hard to stay unfazed when a guy suffers:
A fractured ankle (2012)
A PCL tear (2012)
A fractured clavicle (2014)
A lacerated kidney (2015)
An ACL tear (2016)
Bob Dylan gave us this gem in 1986's "Brownsville Girl": "Now I've always been the kind of person that doesn't like to trespass / But sometimes, you just find yourself over the line." And Allen really keeps finding himself over the line. He's missed 26 of 64 career games with that series of maladies, and 23 of his last 32.
Of course, the next line of the Dylan song ("Oh, if there's an original thought out there, I could use it right now") could be Bob's way of telling me to shut up about injury concerns. Again, I'm not interested in predicting injuries, even for those who seem snake-bitten by various, unconnected issues. But at some point, it's worth wondering about the cumulative effects of all these setbacks. Missing so much conditioning and practice time with your teammates can't be a good thing – even the immortal Rob Gronkowski has seen his cumulative numbers dip a bit throughout the muck. (It's also worth wondering why the Chargers, seemingly flushed at wideout with a healthy Allen back, felt the need to draft Mike Williams so high.)
Besides, there's more to wring our hands over with Allen than injuries. He's returning to an offense that's now thoroughly crowded over with talent – including Tyrell Williams, who was more efficient in 2016 (8.9 yards per target, 10.1% touchdown rate) than Allen's ever been. Allen is also settling in as a thoroughly anti-dynamic receiver. He's averaged just 10.5 yards per catch since his 2013 rookie year, and he's scored just 8 touchdowns over that span. In fact, he's only been targeted 20 times in the red zone and 4 times inside the 10. A 16-game version of Allen certainly carries a 90-catch ceiling, but even then we couldn't guarantee he'd finish far beyond 1,000 yards and 6 touchdowns. That would (barely) justify his WR16 ADP – but it wouldn't justify the risk and the opportunity cost. A third-round WR pick should carry more ceiling than Allen seems to.
So, why not target similar numbers from Garcon four rounds later? Unlike Allen, Garcon is the only game in town – his only real competition for targets comes from second-rate slot man Jeremy Kerley and two one-trick speedsters that never threaten 40 catches. And Garcon is reuniting with Kyle Shanahan, who not only funnels his offense through the X receiver but absolutely adores Garcon. Over their 26 games together in Washington, Garcon averaged 6.0 receptions and 76.1 yards – 96 and 1,218 over a 16-game extrapolation. And it's no fluke; Shanahan's offenses have boosted virtually of their X-men, from Julio Jones to Jabar Gaffney, who posted his career-best season (68-947-5) in Washington at age 31. Garcon isn't sexy, and this 49ers passing game looks anemic at best. But there's still value in that offense when we can identify a sheer target hog. Garcon offers a similar volume outlook to Allen at a fraction of the cost; that's what we call arbitrage.
Suggestion: Pass on Allen in Round 3; there's upside to be had in that range in the forms of Alshon Jeffery, Tyreek Hill, and Davante Adams. Even sexier, you're likely to find Travis Kelce, the No. 1 volume tight end on the board, still sitting there.
Instead of buying DeSean Jackson at 8.10 (WR40), stay strong and snag Mike Wallace at 11.02 (WR50)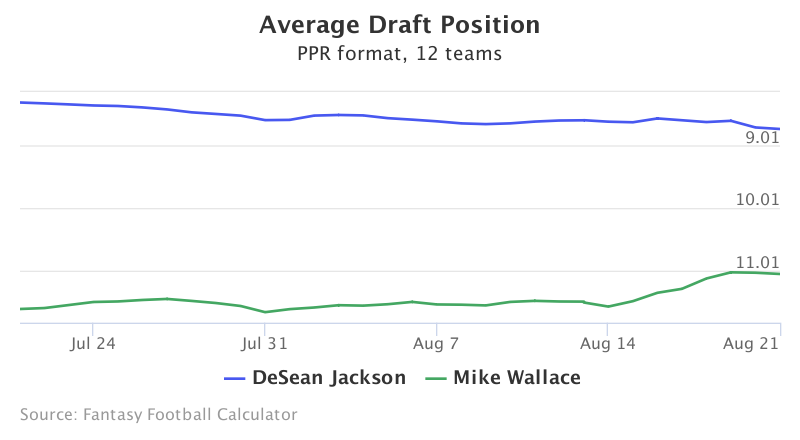 Savings: 28 spots
Thus far, Jackson has been taken ahead of Mike Wallace in every draft I've seen or participated in. We love the long ball, after all, and Jackson remains an elite clear-out threat. But I don't like that move at all; Wallace strikes me as the clearly-superior option, and the fact that drafters want no part of him simultaneously annoys and titillates me. Wallace is routinely winding up on my rosters, and I love it.
Essentially, in buying Jackson over Wallace, you're gambling that (a) Wallace will be eclipsed heavily in the Ravens offense by Jeremy Maclin, and/or (b) Jackson will catch so many long touchdowns he'll manage to outdo Wallace overall. But those worries seem overblown at best and unfounded at worst. Maclin's presence probably won't hurt Wallace volume much at all – the Ravens are about as pass-happy as any team in football. They've thrown an eye-popping 676 and 679 passes over the past two seasons – most in the league by far – and they enter 2017 with just as unsettled a running game as they've "boasted" in those years. And Jackson's role in Tampa Bay looks murky and inconsistent; I'm not sure why drafters outside of best-ball leagues are tripping over themselves to roster him.
Maclin is indeed the chic pick to soak up the highest count of Ravens wideout targets, and that's not an unfair proposition. Maclin is probably the superior receiver; he's been more efficient over the past half-decade and has found the end zone at a stronger clip. But Wallace is the incumbent here, which should definitely count for something – he (presumably) knows the quarterback and the offense better. And besides, why should we discount Wallace's prospects even if he settles in as the No. 2? The peripheral options in Baltimore look shaky at best. Perpetually questionable No. 3 wideout Breshad Perriman, still looking for his 34th NFL reception, is again dinged up and carries an uncertain outlook. The tight end room looks like a battlefield and offers little excitement among its few remaining options. And receiving back Danny Woodhead can draw only so many looks, especially coming fresh off another catastrophic knee injury. With such gobs of volume likely headed the way of the Baltimore wideouts, we'd be silly not to target their only two proven, dependable pass-catchers.
While fantasy drafters annually sign his death warrant, Wallace has quietly been a volume machine for three of his four NFL teams. Dating back to 2011 he's drawn 114, 119, 142, 115, 72, and 117 targets, and if we discount his oddball 2015 in Minnesota he's caught at least 64 balls in each of those years. That's strong consistency – even if we as a public like to regard him as an inconsistent player. In 2016, his first season in Baltimore, Wallace played second fiddle to Steve Smith Sr. and still posted a 72-1,017-4 line that qualified him as PPR WR24. Wallace may have burned a lot of us by not living up to ADP expectations in Miami and Minnesota, but luckily for value-seeking drafters, that ADP is cratering in 2017 and we're in position to capitalize.
Jackson has a nice on-paper outlook, teamed with strong-armed quarterback Jameis Winston and coverage-hogging ace wideout Mike Evans on the other side. Jackson looks like a certainty to produce splash plays in Tampa Bay. But his fantasy prospects aren't that simple: Winston was a particularly poor downfield passer in 2016, throwing more deep balls than anyone in football but doing so erratically. Jonathan Kinsley of Brick Wall Blitz tabbed him just 28th in the league in accuracy beyond 20 yards. Granted, this isn't a very sticky statistic, and it could easily correct in 2017 – especially with Jackson on board. But considering Jackson doesn't provide us with much else fantasy-wise, this isn't as much of a feather in his cap as many seem to think.
You see, Evans is a unique specimen that doesn't just hog coverage, but targets as well – far more so than Pierre Garcon ever did in Washington. Evans has claimed a truly dominant 30.0% of Buccaneers targets over the past 2 seasons and even during his late-2016 dip, his number still stood at an assertive 25.9%. That number likely isn't dropping any further as Evans enters his age-24 season. Add to the mix tight end Cameron Brate, who's built a steady connection with Winston, and rookie O.J. Howard, and the Buccaneers' wideouts will be relied upon less in reality than in the imaginations of fantasy drafters. And considering the team does tend to run a bit more than the league average, Jackson looks hard-pressed to top 55 receptions.
I'm confident Jackson will help correct that deep-ball number, and that the big plays will indeed happen. His downfield presence alone should measurably help the Buccaneers offense. But I'm not hanging my WR3 (nor even my WR4) plans on that. Jackson provides little to fantasy owners beyond those massive strikes, and I can't imagine wanting to start him week after week in hopes of a 4-catch, 100-yard eruption. His ADP tier features numerous options (like Wallace) with similar overall ceilings but stronger floors.
Suggestion: Balk at paying a Round 8 price for Jackson; instead, double-dip for value with the fast-rising Tyrell Williams there and Wallace three rounds later.
---