Photo: Denny Medley, USA Today Sports
Trading is the most fun part of fantasy football. Or you hate it. There is little in between. For many, it is the most nerve-racking part of the fantasy football experience. And for all, it is a skill to improve.
I will not pretend to be the best trader. But the art of the deal is a passion that enhances my fantasy football experience. I am here to share tips I have found helpful.
Our Adam Harstad put together a great piece on this same topic. Please check it out. (Adam, I apologize for using the same structure. I was nearly done, then found your piece. It is a good structure. It is a whole thing now).
Make A Goal
For many, the first thought would be "win the trade." But we are trying to accomplish a goal to complete the deal. Motivations for trades can vary, and we will look at different reasons later. But divorce the idea of winning the trade and switch your mindset to accomplishing a goal.
Follow Through On A Completed Deal
Entering a fantasy football league is joining a social agreement. The deal occurs trade agreement happens through any means. No altering the offer slightly, no asking around to beat the agreed-upon transaction. Integrity within the rules needs to be a key element.
Be Respectful - Part 1
Do not take a lowball offer personally. Yes, people may be trying to take advantage of you. Or they may be apprehensive about losing a deal. It happens to all of us. Recognize values can differ. These are your league mates. Respect them. Feel free to ask about the basis of an offer; dialogue can open up a deal.
Be Respectful - Part 2
Make a firm opening offer. Trades are a two-way street. If you know you are shortcutting on value, ask yourself if you would accept the offer. If you are nervous about losing, consult a trade calculator. Strong proposals open dialogue, get accepted, or get countered. Sometimes they serve to disarm your league mate and result in more beneficial counter offers back. Making firm offers will result in more trades. It is the single most significant improvement area.
Be Respectful - Part 3
Respond to offers. Do not just leave a lousy offer to sit for days, weeks, or months. This action is part of the social contract. Letting offers sit does not send a message to "make better offers"; it says, "I am an inactive owner." Lack of communication is not a stand-in for communication. If someone in your league consistently makes bad offers, ask why. Dialogue opens doors.
When To Trade
Anytime you can. But primarily look at three trade types: Consolidation, The Falling Knife, and Challenge Trade. In a consolidation, you are looking to do the proverbial two-for-one. The falling knife attempts to escape a player before the situation worsens. The Challenge trade is swapping similarly priced assets in hopes of different outcomes.
Consolidation Trades
My favorite type. Fantasy starting lineup spots are a finite resource. These trades ideally strengthen your starting lineup. To be clear, that does not mean trading bench players for starters. Players are wary of these deals and want to upgrade a starting spot too. An open roster spot is an asset. The aim is to upgrade player tiers. Offering two players for one will automatically raise a red flag, so balance the trade and ask for their lowest-value player back.
The Falling Knife
You have seen enough and want out. The player may not be droppable, but you have lost hope for a rebound. Get out. Carpet bomb the league with trade offers. Look for players you believe in who would be perceived to have lower trade value. Just move, and you will rest easier.
The Challenge Trade
To illustrate, I will use Dan Hindery's great Value Chart. Dan has equal value on Najee Harris and Rhamondre Stevenson. You are worried about Harris but like the risk involved with Stevenson. Your league mate fears New England's history with running back committees and favors Pittsburgh's traditional usage. So you swap straight up. The challenge lies that your assessment will be correct over your league mates. The second version involves dynasty leagues and trading future draft picks straight up. Do you trust you will beat your league mate and want to add a bit to the competition? Flip picks. Spice it up.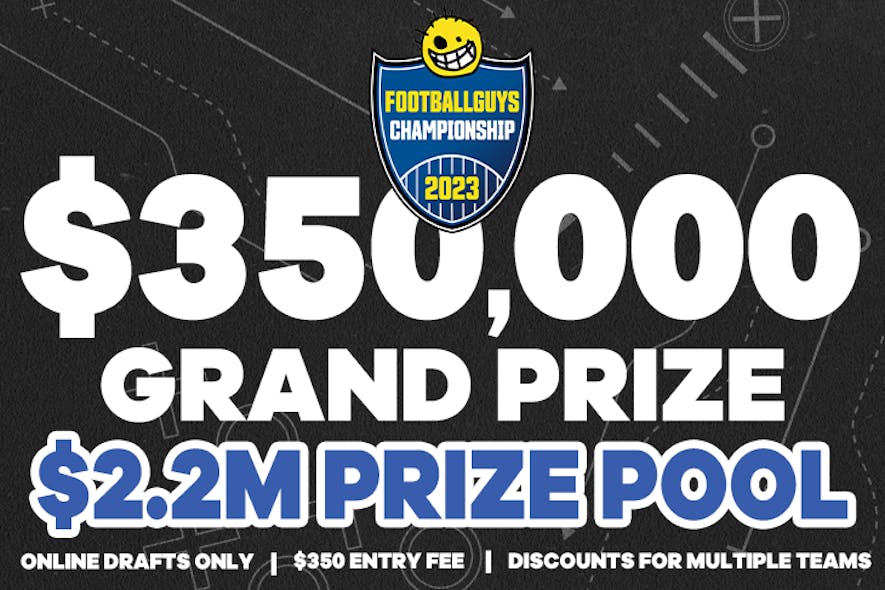 On Trade Calculators
Redraft players may not be familiar, but these are dynasty staples. Certain websites use varying methods of aggregating data to create value sets, allowing players to add pieces for "fair" trades. Think guardrail, not a bible. A great sanity check on an opening offer. Or a double-check on a counter. Do not get hung up on winning on the value. The point of the trade is to accomplish your goal. They can be a weapon too.
Know Your LeagueMates
People are very willing to share their opinions, especially in the age of social media. Use it. Search your league mates on social media. Do they love a particular player you roster? Do they religiously adhere to trade calculators? Use it. All is fair.
Maintain Your Valuation
Ranks are daunting. Not everyone needs to do their own. But use some you trust. Look for differences in your mind. If your league mate publishes rankings, look for opportunities. Managing a team is a string of decisions. Gaining comfort with your valuations allows you to build flexibility.
"Lose" To Win
Losing value today could be winning value in the future. Fantasy is fluid. People can be wrong, right, and wrong on a single player during the season. Remember, the aim is not to win the trade but to accomplish the goal.
Buy High Can Be Buy Low
Buy low. Sell high. Fantasy is a stock market. All types of buzzwords fill the air. But there is a high level of subjectivity. Valuation is fluid. Often, people base "sell high" valuation on a subjective measure. Their sunk acquisition cost. The current market. But we are often wrong. If you believe in a player, buying high may differ from the ceiling. But in your league mates' minds, they could feel pressure to capitalize due to the conversation around the player.
Focus On The Bottom
Work to roll up assets. Churn the bottom of the rosters. People will feel more comfortable trading from the bottom, allowing you to accrue value. An open roster spot is an asset, so consolidating from the back of your roster will enable you to increase your roster's value and opportunity. The last player on your roster you want to feel comfortable cutting at a moment's notice as valuation shifts in the free agent pool. If you are not in that place, it is time to consolidate. (It is always time to consolidate).
Seconds Become Firsts; Thirds Become Seconds
Think of assets like a snowball. It starts small. But as layers add, it can become a boulder. In dynasty, when dealing with rookie draft picks, hunt opportunities to roll up value. Add an extra fourth into a deal. On the next deal, try to turn that fourth into a third. A year out, the value between the two may look small. But that fourth turning into a later-round pick and that third turning into an earlier selection reap tremendous value.
Offer, Don't Ask
You are minding your own business, going about your day, waiting till the next opportunity to hit the coffee pot or stretch your legs. All of a sudden, a message comes across. "I like Justin Jefferson; what do you want for him?" Stop. It is a time-honored tradition not to make the first offer for fear of losing value. If you want a player, come with a firm opening offer. If your league mate will not give in, now is your chance to be aggressive. If you have to open the offer stage, shoot high. You gave me a chance to dictate terms respectfully.
Buy Hurt
Modern medicine is marvelous. While football is a violent game, rare are the times when players never make a full recovery, especially early in their careers. Lean into the discounts when injuries occur and play the long game, especially in leagues with IR spots.
Redraft Trades Are Hard
Dynasty trading is easy. I can be differing competitive timelines. Differing valuation and ability to draft rookies. The permanence of players. It all creates an environment that welcomes deals. Redraft is harder. We are all more intelligent players, and things like consolidation trades are harder to present, especially in leagues with fewer roster spots. Looking for falling knife opportunities, challenge trades, or buying hurt can work better. But the days of fleecing league mates based on information gaps are over.
Understand Seasonality
Erik Kortz of the Devy Dose Youtube channel put together this great chart:
It illustrates the value of rookie picks throughout the year. It also shows player value, which moves inversely to pick value. Trading players before byes, trading into prime fantasy playoff matchups, trading a backup before a starter returns from injury. All are examples of playing timing within the market.
Would I Take This?
Save the offer if you can not get close to a yes on this question. Play into knowing your league mates. Give them offers that fit their rosters or players they are high. Work the edges, not the middle.
Never Hang A Leaguemate
The offer may need improvement. The counter may be worse. But trade negotiations are private. Never blast a league mate in the league chat. Never air out an offer. The damage to relationships is much more than the cathartic reward of the moment. Play the long game.
Veto Vetos
End vetos. You do not need them. We are in a social agreement as a league. Some people will do silly things. But if you have a league mate who will not respect the league's integrity, you have an opening for a new member. Completed trades should be processed immediately. The deed is done; move on.
Thank you for reading! Please follow and ask any questions on Twitter @4WhomJBellTolls.