Photo: Robert Deutsch, USA Today Sports
The wide receivers will hit the field on Saturday, March 2nd, a day which is one of the most interesting and important in the pre-draft process. While the combine will not provide any definitive answers and certainly lacks predictive value divorced from film study, it still gives us important information which provides context to the scouting reports. That will be especially true given the lack of early consensus on the wide receiver group.
The 2019 wide receiver class is deep and filled with intriguing options but lacks any real pecking order as we head towards March. With the possible exception of D.K. Metcalf, the rankings of scouts, draftniks, and top fantasy football analysts seem to be all over the board when it comes to the top tier of pass catchers. The same wide receiver may rank second on one respected talent evaluator's board and ninth on another's. Hakeem Butler, A.J. Brown, N'Keal Harry, Kelvin Harmon, Marquise Brown, J.J. Arcega-Whiteside, Deebo Samuel, and Riley Ridley are each prospects that some top evaluators rank very highly while others are more skeptical about their prospects.
The extreme lack of consensus and clarity near the top of the pre-combine rankings of the 2019 wide receiver class is unique and makes for a fun group to follow. On the bright side, the fact there are so many different prospects that have at least one top draft evaluator willing to go to bat for them is a strong indicator of the depth of the talent pool. However, the lack of consensus also points to the possibility there are no sure stars in the class. It could be a deep group of very good prospects without any truly elite players.
Let's dive into the five most interesting questions that we should get answers to on Saturday and also make some predictions on top performers.
1. How freakish is D.K. Metcalf?
The spotlight will be on Metcalf, who has emerged as the consensus top receiver prospect based upon his athleticism and perceived upside. Recent photos of Metcalf looking like The Incredible Hulk while training in preparation for the combine have only added fuel to the considerable hype. Many expect him to run in the low-4.4s and also dominate some of the other combine events.
Metcalf might need to put up fantastic testing numbers to stay in the conversation as a mid-1st round NFL pick because he wasn't overly productive at Mississippi. His numbers even paled in comparison to those of his own teammate, A.J. Brown. Metcalf was a dangerous big-play threat (18.3 yards per reception and 14 touchdowns on just 67 catches) but still managed just 1,228 receiving yards in his career. Injuries kept Metcalf out of the lineup for nearly half of his college career, which is a partial explanation. However, even when he was in the lineup, he still averaged just 3.2 catches and 58 receiving yards per game despite playing in a high-flying pass offense that ranked as one of the best in the SEC. His lofty draft rankings are based mostly upon his physical tools, so the pressure will be on for him to meet the lofty expectations set out for him.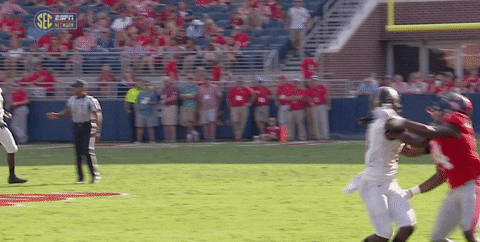 Prediction: Metcalf will impress but won't meet the crazy expectations that have only grown higher over the last few weeks. Contrary to some predictions, he won't run in the same range as Julio Jones (4.39) or Calvin Johnson (4.35), which might slow the hype train down somewhat. However, Metcalf should still put up a relatively strong 40-time along the lines of what Kenny Golladay achieved in 2017 (4.50 at 6'4, 218 pounds), which would play just fine in the NFL.
2. How fast and athletic are top possession receivers A.J. Brown, N'Keal Harry, and Kelvin Harmon?
It would be wise to grade on a curve when it comes to how fast these three upper-tier receivers from the class run. Nobody expects A.J. Brown, N'Keal Harry, or Kelvin Harmon to set the track on fire at Indianapolis and each faces questions about their speed and ability to create separation. On the field, the results were impressive. Brown, Harry, and Harmon each came in as 18-year old true freshman and made an immediate impact for their college teams. By the start of their true sophomore seasons, they were the go-to receiver for good college offenses and had some monster performances in key games.
Productive, big-bodied receivers with great hands do not necessarily need to be the fastest guy on the field. However, speed is important and we have seen there are some minimum thresholds that usually need to be met for players to successfully transition from college to the NFL. For bigger wide receivers, running sub-4.6 times has been a key. If this trio can at least put up solid times (mid-4.5s), it would bode well for their odds of future NFL success. Michael Thomas (4.57) and JuJu Smith-Schuster (4.54) ran what were, at the time, surprisingly solid times at the combine after facing similar questions to Brown, Harry, and Harmon. Thomas and Smith-Schuster have gone on to massive success while similar prospects (Laquon Treadwell for example) who didn't put concerns about their speed to rest in the pre-draft process have generally not found the same success.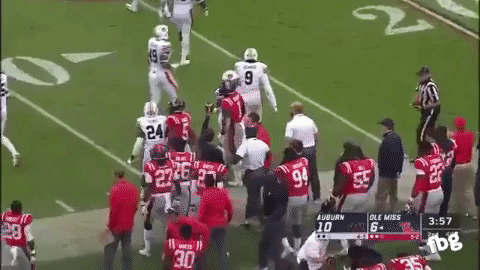 Prediction: Brown pleasantly surprises with his athletic testing and runs in the low 4.5s. While not a size/speed freak like his college teammate Metcalf, don't be surprised if Brown is at least in the same ballpark when it comes to his speed. If Brown beats expectations in terms of his speed, he should be able to lock up a spot in the late-1st or early-2nd round of the NFL Draft.
3. What slightly under-the-radar big school prospect will dominate the combine?
One name to watch is Parris Campbell. Ohio State's leading receiver has been a bit of an afterthought early in the draft process, ranking as a mid-round prospect on most boards and outside of the top-10 of most wide receiver rankings. He has a chance to emerge from the combine as one of the biggest winners of the weekend and push his way into the second tier at the position. Campbell may be the fastest player to come out of the Ohio State program in recent memory, which is saying something considering the 4.3 times of Curtis Samuel, Marshon Lattimore, Denzel Ward, and others. Campbell was highly productive in 2018 — ranking 2nd in the Big Ten in catches (90), third in yards (1,069), and tied for first in touchdowns (12). He will have a real chance to force his way into the second-round conversation with an eye-opening performance at the combine.
Another player to watch is Missouri's Emanuel Hall. Hall is a big-bodied outside wide receiver who was one of college's best deep threats when on the field. He had as big an impact on his team's offense as did any skill position player in the class. When Hall was on the field and playing at or near full health the last two seasons, Missouri was 7-3 versus Power 5 opponents. Without a healthy Hall, Missouri went 2-8 against Power 5 competition and the offense was noticeably less dangerous. If Hall can post a time of 4.4 or better, he could vault up draft boards.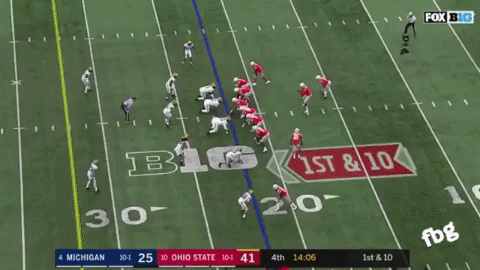 Prediction: Parris Campbell will be the fastest player at the 2019 NFL combine and lay down a time of 4.30 or better. While he will still face questions about his hands and other aspects of his game, if Campbell can prove his speed to be elite, he will be highly drafted.
4. Which small school prospects will blow up the combine and increase their stock?
In recent years, we have seen guys like John Brown, J.J. Nelson, and Marquez Valdes-Scantling show off their blazing speed at the combine and emerge from relative obscurity as intriguing mid-round draft prospects. Others like Kenny Golladay and Chad Williams weren't quite as fast but showed great speed when adjusted for their size.
Matt Waldman has highlighted Northern Arizona's Emmanuel Butler as a potential sleeper to watch. Butler is huge (6'4, 200) and was an effective deep threat against weak competition. If Butler can check some boxes athletically at the combine, he will really be a name to watch going forward.
Diontae Johnson was a dangerous weapon in the MAC for a good Toledo offense. He might also be the best return man in the 2019 draft class. Johnson is very skinny though, so he will need to show off legitimate 4.4-speed to get drafted.
Prediction: Johnson runs well and proves himself the type of speedy, mid-round prospect from a smaller school that Bruce Arians has targeted in the third round of almost every single draft.
5. How big is Marquise Brown?
Marquise Brown, Oklahoma's star wide receiver, is not going to be able to run or participate in any drills at the combine or Oklahoma pro day due to surgery for a Lisfranc injury. However, he is another player who will be under the microscope at the combine. Brown's medical check will be key and it will also be important for his NFL draft stock for him to weigh in with a decent number.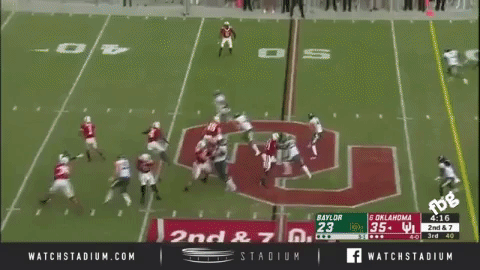 Prediction: We know Brown is undersized. He should still be able to weigh in north of 180, which would be a boost for his draft stock considering he has been listed as low as 160 pounds in some places. In a recent photo with his cousin Antonio Brown, Marquise looked to have a similar build.