Photo: Jasen Vinlove, USA Today Sports
Pros
He's developed into an absurdly efficient receiver, sitting eighth in yards per target over the last two years and fifth in fantasy points per target.
He spent 2016 developing a strong rapport with Marcus Mariota and outright dominating the Titans passing game.
He's been creating touchdowns at an excellent rate, making solid noise in the red zone and scoring 13 times over his last 169 targets.
Cons
He doesn't have much of a track record as a seventh-round pick with just 64 receptions and 4 touchdowns over his first 3 NFL seasons (2012-14).
The optics of Tennessee adding two high-profile receivers after locking up Matthews to such a team-friendly contract are not great.
At the very least, he could lose a chunk of his red zone work to short-yardage stud Eric Decker.
Pros
He's remarkably consistent, having posted 74-87 receptions over each of his last 4 healthy seasons (2012-15). His PPR finishes in those seasons: WR6, WR10, WR28, WR13.
He's an absolute touchdown machine, boasting a career 13.5% touchdown rate that bests even those of touchdown dynamos Jordy Nelson and Calvin Johnson.
He'll now be catching from his best quarterback, by two or three miles, since 2012. All of that consistent success above – it came across two different rosters, from a gaggle of quarterbacks that included Kyle Orton, Geno Smith, and Tim Tebow.
Cons
He joins a receiving corps that's suddenly crowded to a wild degree, and he's no guarantee to be an every-snap player.
He just turned 30, which isn't any kind of death knell, but it's concerning that he underwent two fairly major surgeries last year.
It's a bit concerning his free agency market never got off the ground, and that the Titans only offered an in-his-prime No. 1-caliber wideout a small, one-year deal.
Pros
He's a tremendous prospect, boasting some of the best production metrics in the recent history of early WRs.
He boasts great size and a reputation for tough traffic catches and high-point excellence.
Rookie wideouts from the top five of the draft have been high-volume revelations over the past decade, so his floor should be relatively stout. It's unlikely he's "redshirted" or limited much at all in 2017.
Cons
He's the new meat in a stew that's suddenly overflowing with established talent; it's hard to see him relegating one of those studs to the bench very often, let alone two.
His NFL transition is coming from a tiny school, which theoretically sets him even further behind the game.
He's likely 100 percent recovered by now from January ankle surgery, but he did miss all of his rookie minicamp.
We blinked, and the Titans are loaded
Suddenly, the Titans are brimming with wide receiver dynamism. Just a year after subjecting the public to the horrendous likes of Tajae Sharpe and 35-year-old Andre Johnson in prominent roles, they're actually trying to find opportunities for their bushel of talent. Unfortunately, it's a bit too early to really sink our teeth into what their passing game will look like in 2017. But we can certainly take some educated, historically-driven guesses.
First, we'll need to create a workable idea of how many passes these Titans will throw. It's safe to assume they'll air it out more than they did in 2016, and maybe strikingly more, considering all of the talent they've added. Still, we need to face the fact that there is indeed a hard cap on that increase. The personnel and coaching history suggest it, and until we see clear indication otherwise, we have to be conservative in projecting the jump.
The Volume Conundrum
Last year, the Titans attempted 31.1 passes over Mariota's 14 full games, good for just 28th in the league. That's a bit of an outlier, but not a huge one: head coach Mike Mularkey-led offenses have often skewed heavily toward the run in most of his coaching stops. That said, Mularkey also tends to tip the other end of the scale. His Falcons from 2009-11 were exceptionally pass-heavy, and his 2012 Jaguars tilted pass, finishing 11th in pass attempts. Sadly, there's been little apparent trend as he's vacillated between pass-heavy and run-heavy, so we can't get too many specifics from here.
What we can do is note that Mularkey offenses tend to revolve around his personnel strengths, which should suggest a healthy uptick in passing. I'm confident he'll play more to his franchise quarterback and mega-efficient WR stable, and peel back a bit from the #ExoticSmashmouth scheme. Still, I don't (yet) expect the shift to be enormous; the Titans remain a team invested heavily in their backfield. To see an enormous pass-heavy swing, we'd need to see an overall sea change across the Titans offense: fewer fullback sets, fewer two-tight sets, and more fluid offensive personnel in general. That's all certainly within the realm of possibilities, but it's not shrewd to merely project it and expect it here in July. If, in the preseason, they showcase new three-wide formations and seem to be shoehorning their wideouts onto the field, we can adjust. But for now, we need to project a healthy yet moderate change in distribution.
Even if the Titans skew especially pass-heavy in 2017, though, these three wideouts probably won't benefit quite as much as the average NFL team would. This offense carries an incumbent slot man, one who's been exceptionally productive for four straight years years: tight end Delanie Walker. And it's his productivity from the slot – a per-16 average of 75 catches, 896 yards, and 6.1 scores – that makes it hard to project all three wideouts onto the field at once. A formation that includes, Matthews, Decker, Davis, and Walker is one that can't put an extra blocker onto the field and shrieks "Pass! Pass!" It's hard to imagine Mularkey leaning too heavily on such a one-dimensional personnel grouping; oftentimes, one or more of the wideouts will be left holding the bag.
The Target Crusade
To that end, then, how do we project the target distribution to fall among these three? Not easily, I can say, and not with much July clarity. By my projections, the Titans will send a solid 59.3% of their targets to their wide receivers. Here we have the 2016 league averages for wideout roles, along with my projections for the Titans' 2017 distributions:
It makes sense to start the exploration with Davis. He'll almost certainly be the third wideout through, barring injury, and that semi-concrete slot should ultimately fall in line a little above the league average for No. 3 volume. While I love (see: adore) Davis' long-term outlook, he simply doesn't deserve much benefit of the doubt as the rookie here. He may even open the season playing mostly in those semi-rare four-wide sets. To boost his rookie playing time significantly, he'll need to force Mularkey to pull Walker off the field more than usual and push efficient veterans Matthews or Decker for snaps. Those are reachable goals, but certainly not ones to merely assume will bear out.
Of course, there's real upside in play if he can beat out Matthews, Decker, or Walker. Davis is a fantastic prospect, one wholly worthy of the draft's No. 5 pick through a lens of college productivity and physical profile. Davis dominated his offense like few others in school, averaging 1,446 yards and 15.3 touchdowns over his final 3 years at Western Michigan. (That accounted for a seemingly implausible 53.1% of team yardage.) At 6'3" and 209 pounds, with a penchant for downfield (15.9 yards per reception) and high-point catches, those certainly don't seem like inflated numbers.
And receivers drafted in the top 5 have an excellent recent track record of rookie production. The last five have averaged 122 targets, 63 receptions, 946 yards, and 6 touchdowns. For these reasons, Davis ranks much higher for me as a draftable option than he (conservatively) projects. He may well be the most talented receiver on this roster – I don't think he is yet, but it's conceivable – and I'm fine targeting him as an upside WR4.
Still, I can't just expect those stout rookie numbers on such a crowded depth chart. All of those last five top-five wideouts stepped in as immediate high-volume guys – 3 of them led their teams in targets, and all of them drew at least 93. That makes sense; typically, a team spends such a premium pick on a receiver because they have little else to work with. But that's not the case for Davis. As the third WR option for some if not all of the season, I'm penciling in Davis as the least productive of these three.
If you've been paying attention to football over the past decade, Decker needs no introduction. He's been an extraordinarily effective wideout dating back to the Peyton Manning Era in Denver, averaging 5.3 receptions and 70.0 yards a game. He's been especially impressive when we note that he's done it with a myriad of quarterbacks, including some of the league's worst. Where he excels most, though, is in churning out touchdowns. Decker's career 13.5% touchdown rate is remarkable, as noted above, and he averages 10.1 per 16 games dating back to his first season of any real usage (2011). Decker has spent most of his career in the shadow of a presumed-superior teammate, first Demaryius Thomas and then Brandon Marshall – even though he's actually produced better over his career than either of those studs:
Decker's a No. 1-caliber wideout, for sure, but he's one carrying baggage onto a new team. It's a bit concerning, for example, that Decker's free agency market never developed after he was cut by the Jets. Decker signed with the Titans after his only team visit, and was guaranteed just $2.5 million on a one-year pact. That's only half what they guaranteed Matthews as part of his three-year deal, and his base salary ($3.85 million) is below what No. 5 pick Davis will likely sign for. Much of that is probably injury-related, which is a flag of its own: Decker underwent two semi-serious surgeries over the past year, and we'll need to see this preseason how effective his recovery has been at age 30. I'm a huge fan of Decker's game, and I think his skillset can transition nicely into his 30s and into whatever offense he winds up in. But I have to wonder why, by and large, teams didn't seem interested when he came available. When Jeremy Maclin – just a year younger and also fresh off an injury-ruined season – was cut by Kansas City in early June, multiple teams scheduled visits and launched into contract talk. Ten days later, Decker received a cool greeting from the market and settled for a one-year, prove-it deal with the first team he met.
We can speculate on Decker all we want, but we can't lose sight of the fact that Matthews just proved himself also capable of carrying a wideout corps in an effective fashion. In fact, his 2016 breakout was actually firmly superior to Decker's 2014 – his only season as a bona fide No. 1 wideout:
What's funny is that the two had virtually equal supporting casts at wideout in those seasons: horrid, to be specific. In any event, this doesn't give us anything concrete as we try to distribute their roles, but I give the edge to Matthews based on what the data tells me the Titans should do. He's the incumbent No. 1, which accounts for something, and he's been among the league's most efficient receivers over the past two years. Matthews' 9.51 yards-per-target ranks eighth league-wide in that span, and only four wideouts have produced more than his 2.05 PPR points per target. His touchdown rate has been strong – 12.0%, almost Decker-ian – and we can feel confident that, whatever role he winds up playing, he'll likely maximize it in fantasy terms.
A sporadic underachiever in Miami, Matthews rode an impressive 2015 all the way into Tennessee in 2016, where he quickly rose to the top of an ineffective depth chart. From Week 7 on, he led the team's wideouts in snaps by a mile (57.5 a game) and utterly dominated their targets, drawing 47.6% of them – way beyond the league average shown above. Of course, he won't sniff that dominance this year, with actual NFL-caliber wideouts in the mix for attention. But Matthews' stretch run as the clear dominator looks, at least right now, to set him up as the No. 1, if only marginally.
That's why, at this point, I'm a bit more comfortable projecting the target lead to Matthews, and I'm giving him a 52/48 split over Decker. He's got a year in the offense, one spent apparently developing something special with Marcus Mariota, and I think the Titans would be fixing the unbroken if they sought to recast Matthew's role too much. In any event, I'm confident both will generate splash plays consistently and score a bloated number of touchdowns, which would benefit Mariota's outlook massively while keeping the Matthews vs. Decker waters muddied.
Conclusion: It's an ADP Dance
I like Matthews, most like Decker, some like Davis; at this point in time, there's no concrete indication of how this stable will fare. We'll need to watch this preseason for offensive pace, run/pass distribution, and preseason roles to have a better idea of how this WR corps will stack up. But for those drafting now-ish, I feel we can come to the reasonable deduction that Matthews and Decker will draw near-even attention, well in front of rookie Davis.
Still, all of that uncertainty means that ADP should probably make this decision for us. With such an unknown yet potentially fruitful situation, we can maximize draft value by aiming for the more affordable of the two close-together starters, Matthews and Decker.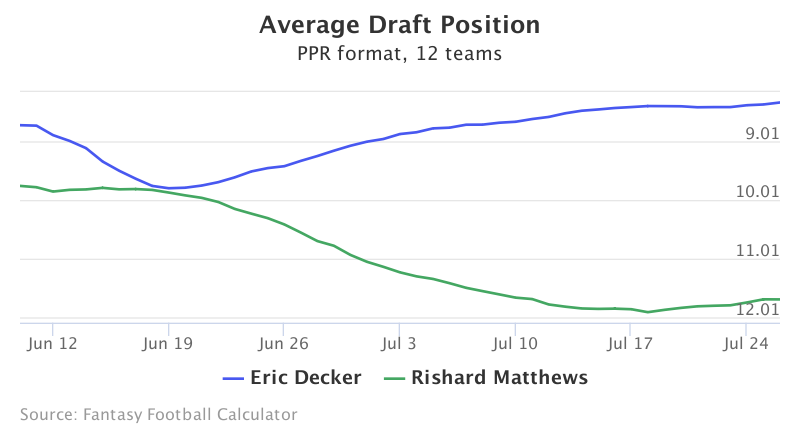 Yowser. Since the two teamed up, fantasy drafters are treating Decker like the clear-cut No. 1, fully healthy and properly integrated into his new digs, and Matthews like an upside play outside the top 50 wideouts. To me, that's just craziness. Decker enters camp with more individual question marks, as well as being the new entry into the offense, so I'm not on board with this massive gap. I'm taking Matthews all day.
Davis is also coming around as a value play. He was going entirely too high this summer, as high as 8.02 in mid-June, but has leveled off a bit of late (and should continue to dip gradually):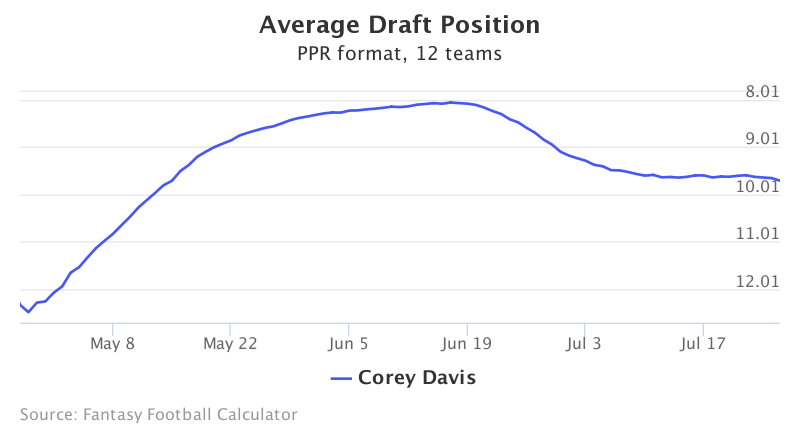 Ultimately, I'll stick with my statement from mid-July and probably hold steady through the preseason:
Projections
Rishard Matthews
Projector
GP
Re
Yd
TD
Ru
Yd
TD
PPR
Justin Howe
16
66
907
6
0
0
0
12.19
David Dodds
15
51
719
6
0
0
0
10.59
Maurile Tremblay
16
50
745
5
0
0
0
9.53
Bob Henry
16
56
810
6
0
0
0
10.81
Jason Wood
16
52
750
5
0
0
0
9.81
Eric Decker
Projector
GP
Re
Yd
TD
Ru
Yd
TD
PPR
Justin Howe
16
64
845
7
0
0
0
11.97
David Dodds
15
60
774
6
0
0
0
11.56
Maurile Tremblay
16
53
721
6
0
0
0
9.94
Bob Henry
15
60
785
7
0
0
0
12.03
Jason Wood
15
60
755
6
0
0
0
11.43
Corey Davis
Projector
GP
Re
Yd
TD
Ru
Yd
TD
PPR
Justin Howe
16
53
755
5
1
6
0
9.93
David Dodds
16
48
658
5
0
0
0
8.99
Maurile Tremblay
16
53
765
4
0
0
0
9.47
Bob Henry
16
50
725
6
0
0
0
9.91
Jason Wood
16
55
750
4
0
0
0
9.63
Other Viewpoints
Fansided's Dale Lolley is similarly intrigued by Matthews:
"So where does that put Matthews in the pecking order when it comes to fantasy football receivers? He ranks as a decent WR3 with upside… Take Matthews in the ninth or 10th round and you'll be happy with the results. He should still put up decent numbers in an improving offense."
Fox Sports' Jon Halpin is a bigger fan of Decker's:
"The bet here is Decker will be the Titans' best fantasy wideout, but not one who will dominate in terms of targets and touchdowns (though he is very good in the red zone). Mariota figures to spread the ball around, and I've got Decker at WR34."
While Ben Gretch of Rotoviz is cautious on the entire bunch, especially Decker:
"As for Decker, the great pairing with such an efficient touchdown thrower might not yield as promising returns as most expect… Unless Decker writes perhaps the most impressive chapter in his long history of touchdown production, the safe bet is that both the touchdowns and overall targets are spread around. That isn't a recipe for individual success in an offense that needs a volume boost to even be league average."
Our Sigmund Bloom might have the winning answer, though:
take your pick davis decker matthews trading off good weeks. ie draft mariota

— Sigmund Bloom (@SigmundBloom) July 26, 2017
---