Photo: Ed Mulholland, USA Today Sports
Unlock More Content Like This With a Footballguys Premium Subscription
"Footballguys is the best premium
fantasy football only site on the planet."
Matthew Berry, NBC Sports EDGE
From Investopedia, emphasis mine:
Arbitrage is the simultaneous purchase and sale of an asset to profit from a difference in the price. It is a trade that profits by exploiting the price differences of identical or similar financial instruments on different markets or in different forms. Arbitrage exists as a result of market inefficiencies.
In other words, arbitrage is finding a useful discount by plucking high-level assets at mid-level cost – certainly less than what other, less-informed consumers are paying for their (similar) assets. It's striking gold at far, far below gold prices.
We all love discounts, and in fantasy football, we need them. Leagues aren't typically won and lost by the owners who identify the "correct" guy with their first pick. They're more often decided by those who mine RB1/2 production in Round 8. Identifying the cheap studs – and the expensive underperformers – is essential.
With that in mind, let's look at the three arbitrage plays that stick out most to me at the running back position, based on ADP data from Fantasy Football Calculator. Remember, the key here isn't merely to find production – it's to find it cheaper than most are forced (willing?) to pay.
Instead of buying Dalvin Cook at 3.05 (RB14), sit tight and grab Tevin Coleman at 7.02 (RB30)
Savings: 45 spots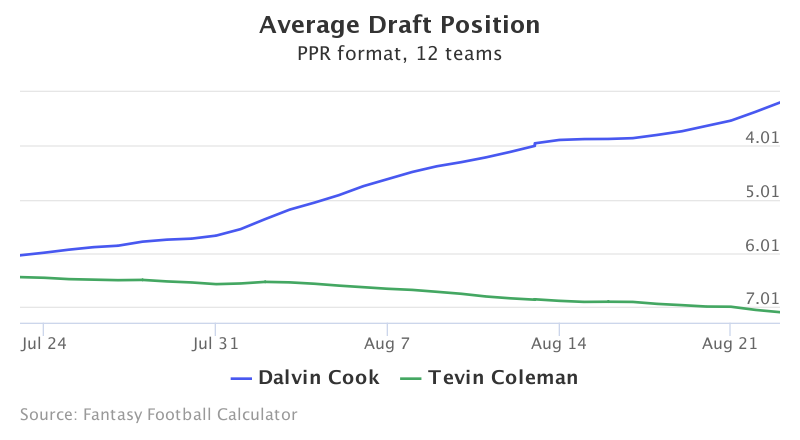 I know this seems counterintuitive. Cook has, by virtually all accounts, looked fantastic this preseason, and I'm not here to tell you to avoid him. But his ADP has absolutely soared, from Round 10 in May to the middle of Round 3(!) today. Rookie or no, that's far too much swelling for my taste – especially when we consider his relatively capped upside. Cook is an enticing prospect indeed, but at the moment, his situation doesn't seem to set him up for RB1 production. And Round 3 is where I'm generally buying receivers, not runners – I see more floor in this range at WR than in the unproven and uncertain RBs.
Thanks in various degrees to several less-than-desirable aspects of the Minnesota offense – as well as something of a backfield timeshare – Cook doesn't look destined for week-to-week fantasy gold. Despite solid volume, Vikings backs have struggled to produce RB1 numbers. Last year, Jerick McKinnon and Matt Asiata combined to generate just two top-12 RB weeks all season. There just wasn't a ton of volume in play in an offense that ran just 1,006 snaps, 10th-fewest in football. And touchdown opportunity never materialized; only four teams recorded fewer rushing scores in Year 1 of the Post-Adrian Peterson Era. Not even the ultra-athletic McKinnon was able to produce many breakway runs (just 2 rushes of 20+ yards all season), and not even goal-line specialist Asiata was able to punch in many short touchdowns (only 6-of-20 from inside the 5).
And as 2017 dawns, Cook is dealing with a fairly crowded backfield, an offensive line our Matt Bitoni currently ranks 30th in football, and a generally toothless passing game that doesn't pull much defense out of the box. The hope, of course, is that Cook is such a talent upgrade over McKinnon that he skews these shaky rates back toward the positive. That's certainly plausible; I love Cook's long-term outlook and think he'll eventually prove a second-round steal for the Vikings. But I'm not ready to take the Round 3 plunge – largely because recent Vikings history tells me not to.
I'm much more likely to wait several rounds and scoop up Coleman. Yes, he's a flawed back who doesn't really make people miss, and he's probably not as efficient as he looked last year. And yes, the Falcons offense will almost certainly regress some from its monstrous 2016. But Coleman remains an ultra-explosive dual threat who's scored on a ridiculous 5.0% of his NFL touches. Ultimately, he offers a stronger PPR floor than many think – and a ceiling that's comparable, if not superior, to Cook's.
My 2017 projections feature a fairly optimistic projection for Cook – I give him 60% of Vikings RB carries, close to the league average – and a relatively safe one for Coleman. I like to stay conservative when dealing with timeshares, so Coleman checks in with a modest 3% increase in rushing share from last year. In other words, I'm projecting Cook to draw a near-average starter's volume share, and Coleman to see just a hair more Falcons action than he did last season. And even still, Coleman comes out with a better 16-game projection than Cook:
| | GP | RuAt | RuYd | RuTD | Re | ReYd | ReTD | PPR Pj/Gm |
| --- | --- | --- | --- | --- | --- | --- | --- | --- |
| T. Coleman | 16 | 155 | 683 | 7 | 35 | 387 | 2 | 12.48 |
| D. Cook | 16 | 215 | 948 | 6 | 26 | 184 | 1 | 11.21 |
Those projections don't factor in Cook's absolute ceiling. He could conceivably vanquish both McKinnon and Latavius Murray even further and claim a bigger volume share. But they also don't factor in Coleman's absolute ceiling; he could eat even more into Freeman's numbers, or take over as a weekly top-6 option with a Freeman injury. In any event, we see that Coleman's mid-level scenario calls for an equal or slightly better outcome to Cook's – and his top-level ceiling comes out markedly ahead. As a result, he's easily the more valuable pick, especially with a head-scratching four-round disparity.
Suggestion: If you're targeting a Round 3 RB, go for the proven Isaiah Crowell, who's locked into the lead-back role in a Hue Jackson offense. Or, more ideally, chase Travis Kelce.
Instead of buying Marshawn Lynch at 3.08 (RB16), hold off and scoop Mark Ingram at 6.02 (RB27)
Savings: 30 spots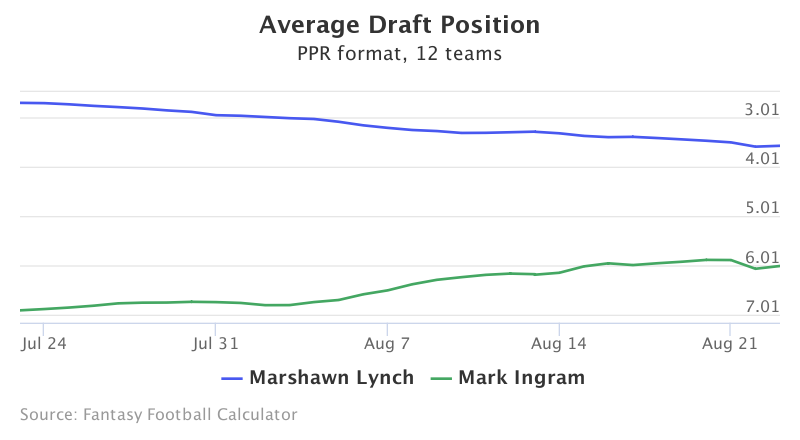 I understand the appeal of Lynch: he's proven, he's on a solid-looking team with a great line, and he boasts great touchdown upside. After all, Latavius Murray scored 18 times in Oakland over the last 2 years. Lynch is one of the premier touchdown-makers of our time; he produced an elite 0.76 per game from 2011-14 in Seattle. It's not as though Lynch doesn't have a sexy ceiling.
But let's take note of the fact that Murray wasn't a dominant lead back in Oakland last year. Over his 14 starts, he ceded 168 touches to rookies Jalen Richard and DeAndre Washington, both of whom showed exceptionally well in terms of explosiveness and efficiency. There's already speculation that the Raiders may limit his workload, seeking to extract the best of Lynch without the extraneous stuff that makes for 300-touch seasons. It's not a concrete suggestion, but it's sensible and fits into my line of thinking that Lynch may not even threaten 250. (I'm currently projecting him for 220.)
And why not? History tells us that end-of-the-line running backs simply don't fare well statistically. Our Adam Harstad has written extensively on the plight of skill-position players in their late-career seasons, and he's concluded that the production marks of 31-year-old running backs tend to "die" – or suffer a catastrophic decline – at a roughly 33% clip. That's up markedly from 26% among 29-year-olds, where we've seen Lynch "die" already, in 2015.
Are we sure Lynch will buck his own trend and beat that number? He's been out of football for a year and on a new roster, and we can't lose sight of the fact that Lynch is bringing his chronic back woes to Oakland. It may be fair to say Lynch is 30 in a 31-year-old's body, considering he skipped a season's worth of punishment last year. But it's also fair to note just how much mileage he's already carrying: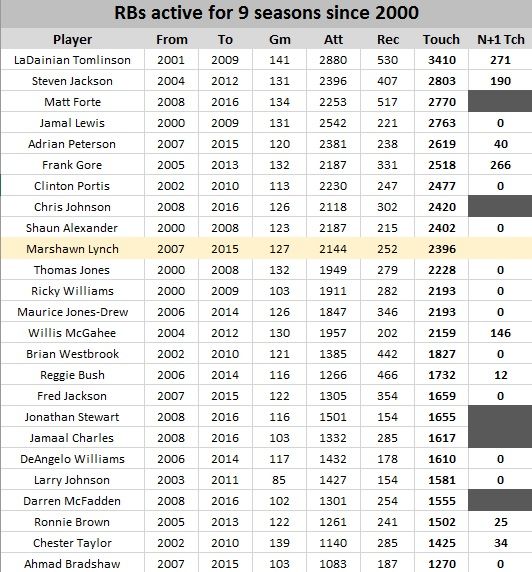 Yuck. LaDainian Tomlinson and Frank Gore were the only volume-based success stories among 24 non-Lynch names. And it's interesting to note that, even among the 15 backs with fewer touches than Lynch, only 4 returned for an N+1 season. And only Willis McGahee drew anything close to a lead-back workload in N+1.
Furthermore, even as the lead back, Lynch doesn't project to the same receiving production Murray managed. Murray averaged 37 catches for 248 yards – right around what Lynch averaged in his Seattle prime, long before he took a year off and turned 31. And in 2015, his final year as a Seahawk, Lynch saw a marked decline in his receiving numbers. He drew a studly 13 targets over the first 2 games, but only 11 over his final 6 (playoffs included) as the Seahawks largely began looking to Fred Jackson out of the backfield.
These young Oakland backs are both explosive and versatile, and it looks unlikely that Lynch will gobble up much of the passing-down production. I have him projected to catch a ho-hum 29 passes over 16 assumed games, but I'm not confident in that number. He could easily miss games and/or lose pass-game opportunity and wind up around 25, which would set him back from much of his ADP tier in PPR formats. This is the tier, after all, that includes the likes of Ty Montgomery, Christian McCaffrey, Joe Mixon, and Bilal Powell – all of whom could see comparable rushing usage to Lynch's and catch more than double the passes.
All told, I'm entirely off Lynch anywhere near that ADP. I'm much more likely to chase a guy like Ingram, who also boasts great touchdown potential at a risk-afflicted ADP; he has easy RB1 potential at a RB3 cost. Or Terrance West at 8.04, whose volume projects even better than Lynch's with Kenneth Dixon out and no strong replacements on the horizon. Or even Frank Gore at 7.11, who carries many of Lynch's concerns but a much more palatable ADP.
Suggestion: If you're truly enamored of Lynch, hope he tumbles to you in Round 5. I can't in good conscience recommend anything higher; there are too many similar options scattered throughout the first eight rounds.
Instead of buying Danny Woodhead at 4.08 (RB20), stay strong and snag… well, just about any other third-down back
Savings: Anywhere from 8 to 110 spots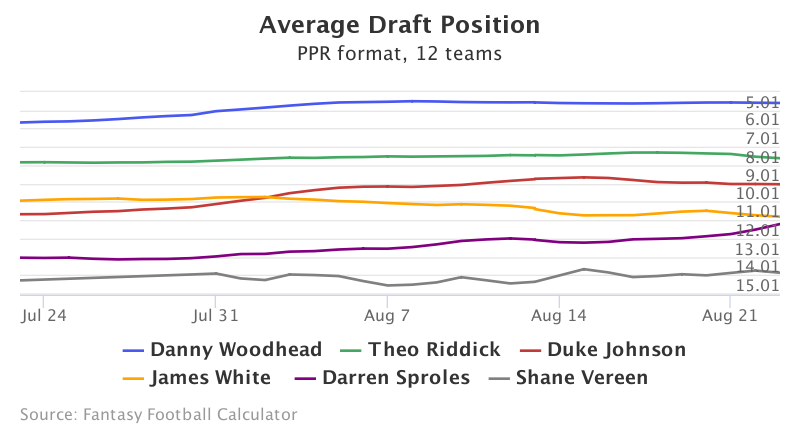 I don't mind Woodhead a bit; in fact, he's not a bad play at RB20. Kenneth Dixon's absence is a huge deal; it sets Woodhead up with a true ceiling around 75 receptions. The Ravens offense will again throw and throw and throw, and Woodhead should vie for the team lead. He could even push for 100 carries, too, with such a talent-shallow backfield around him. Still, 4.08 is quite high given his profile. It's not his ceiling price – he did finish PPR RB3 two years ago, after all, and RB12 two years before that. And I understand and appreciate how important he is to the Ravens' plans. I just can't invest quite this much. Woodhead is exceptionally useful to NFL offenses, but he's a 32-year-old part-time back, one who's undergone two reconstructive knee surgeries in three seasons. And despite the passing volume, his situation isn't as rosy in Baltimore as it was in San Diego. Woodhead will have fewer teammates to fend off now, but he'll also have less scoring opportunity. It wasn't just the receptions that made him an RB1 there – it was also his surprisingly gaudy touchdown production. Woodhead scored 18 times over 35 full games as a Charger; on a per-touch basis, he found the end zone roughly as often as Ezekiel Elliott did last year. Let that sink in. But it's hard to imagine that rate carrying over into what could be a true dumpster fire in Baltimore. The 2013 and 2015 Chargers ran off a combined 415 red zone snaps and, overall, produced 75 offensive touchdowns. These Ravens, on the other hand, look poised to make a run toward the bottom of the NFL's touchdown register.
The most important knock on Woodhead's ADP, however, is the sheer number of high-volume receiving backs available in the middle rounds. They generally lack Woodhead's track record, but most also lack his age, his injury history, and his RB2 draft cost.
Of course, Bilal Powell waits in the wings just below Woodhead's ADP, and I prefer solidly in terms of value. Powell isn't 32, which is nice, and aside from being a reception-heavy third-down back, he's also in good position to lead his backfield in overall touches. Matt Forte is 31 and has the look of an in-season shutdown candidate on this blow-it-all-up Jets roster. Powell averaged an eye-popping 26.3 touches over the final 4 weeks of 2016 and is the far more efficient player at this point. He'll likely see a steady workload while Forte is healthy, and could again scorch the earth if/when his teammate goes down.
Duke Johnson Jr, Darren Sproles, and Shane Vereen also stick out as values. All have locked-down roles with relatively little passing-game competition in their backfields. And Johnson and Sproles carry the same rushing outlook as Woodhead. Vereen is more of a question mark – he's recovering from a major injury – but his bottomed-out ADP reflects every ounce of that risk. The Giants backfield looks seriously understaffed at the moment, and there's no real excuse for any RB with a realistic 500-snap outlook to last into Round 13.
James White also bears mentioning here in terms of ceiling alone. He's not a rushing threat, but remains the Patriots' primary receiving back and has been targeted heavily throughout camp. There's upside here for another 60 receptions despite the team's RB additions, and there's added touchdown potential that comes simply by way of being a Patriot. Over the last three years, no NFL team has run more snaps from scoring position, and no quarterback has been more efficient there than Tom Brady.
---