Photo: Matthew Emmons, USA Today Sports
The first wave of free agency has crested and crashed into shore, and we will see the ripples for years to come. While we were busy watching March Madness or the World Baseball Classic or just enjoying a nice spring, two moves of fantasy consequence involving two veteran wide receivers went down. What could the Adam Thielen signing in Carolina and Brandin Cooks' trade to Dallas mean for fantasy football?
The Cowboys trade a 2023 fifth-round pick and a 2024 sixth-round pick to Houston for Brandin Cooks.
This move doesn't come as a surprise, as the Cowboys were reportedly in on Cooks when he was available last year following Jack Easterby being let go and reportedly not wanting to be part of a rebuild. Cooks had 18 million guaranteed dollars on the books for this year, so hammering out details to finalize this deal included having the Texans pay six million of Cooks' 2023 salary. Cooks is due 13 million in 2024, but it is not guaranteed. Cooks has been traded four times now (New Orleans -> New England -> LA Rams -> Houston -> Dallas), tying the record set by none other than Eric Dickerson.
Cowboys Fantasy Impact: The Cowboys recently restructured the contract of wide receiver Michael Gallup to create cap space, and Gallup is recovering from ankle surgery after not fully regaining form from his January 2022 ACL tear last season. Cooks will add a speed threat and more adequately replace Amari Cooper (who was traded to Cleveland last offseason) than 2022 third-round pick Jalen Tolbert and free agent injury bust James Washington did last year. It's not great for CeeDee Lamb, who has more formidable target competition in an offense that is going to skew run-heavy if we are to believe the comments of head coach Mike McCarthy about the team passing too much under former Cowboys offensive coordinator (and now Chargers offensive coordinator) Kellen Moore and read the signal that hiring Brian Schottenheimer, who famously locked up the kitchen from Russell Wilson in Seattle, sends about the intentions of the Cowboys offense. Dak Prescott becomes the latest in a line of illustrious quarterbacks to throw to Cooks, along with Drew Brees, Tom Brady, Jared Goff, and Deshaun Watson and should be helped by his arrival. This isn't a great destination for fantasy for Cooks. We can only hope his dropoff last year had more to do with disinterest than the beginning of a decline for a player turning 30 in September.
Cowboys Fantasy Winners: Dak Prescott
Cowboys Fantasy Losers: CeeDee Lamb, Michael Gallup, Brandin Cooks
Texans Fantasy Impact: We will probably wait until April 27 to determine whether the Panthers traded up to get Alabama's Bryce Young or Ohio State's C.J. Stroud as their franchise quarterback. The Texans will probably select the other, although the hyperathletic but less refined Anthony Richardson out of Florida is also possible. We can project the Texans wide receiver group now to be led by recent signings Robert Woods and Noah Brown, 2021 third-round pick Nico Collins, and 2022 second-round pick John Metchie. Collins is the most intriguing as a potential breakout candidate and replacement for the downfield impact Cooks had in the passing game. But if the Texans end up with Young, remember that he and Metchie were teammates at Alabama. Also, in a great sign for their future quarterback, the Texans signed LT Laremy Tunsil to a three-year, $75 million extension.
Texans Fantasy Winners: Robert Woods, Nico Collins, John Metchie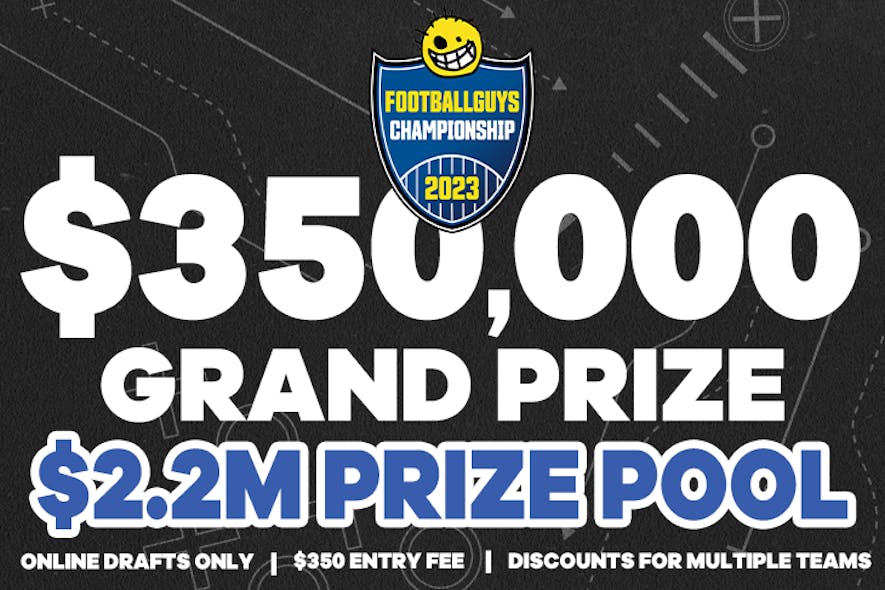 The Panthers signed WR Adam Thielen to a three-year, $25 million deal.
The Vikings recently released Thielen after he refused a pay cut from his projected $11.8 million salary for 2023. Thielen was carrying a nearly 20 million dollar cap hit, and by releasing him, the Vikings saved about 6.4 million of that, with the rest staying on the books as dead cap. The Panthers have reportedly guaranteed $14 million of this deal, so Thielen gets some security, and the Panthers get some help for a wide receiver group that just lost D.J. Moore in the trade-up for the #1 pick and their future franchise quarterback.
Panthers Fantasy Impact: Thielen becomes the elder statesman of a depth chart led by Terrace Marshall, Laviska Shenault, and Shi Smith, so this is a clear upgrade for whoever is piloting this offense this season. New head coach Frank Reich should enliven a morose passing Panthers game, so this move could improve the fantasy value of Thielen, who won't be Justin Jefferson's shadow. Thielen should be the go-to player on third down and in the red zone, while Marshall, Shenault, and Smith will be relegated to more complementary roles. However, all are still on the upslope of their career arcs and could eventually overtake Thielen if they click with the new quarterback. This especially stings for Smith, who plays in the slot and will look the most snaps to Thielen of any of the young receivers. Recent tight end signing Hayden Hurst's role in the passing game will also be projected to be smaller with Thielen's arrival.
Panthers Fantasy Winners: Adam Thielen, the quarterback taken at #1
Panthers Fantasy Losers: Terrace Marshall, Laviska Shenault, Shi Smith, Hayden Hurst
Vikings Fantasy Impact: Even though the release happened last week, we can comfortably project K.J. Osborn as a starter now, and even though the team signed a tight end, Josh Oliver, to a three-year, $21 million contract last year, T.J. Hockenson should have plenty of opportunity in the passing with Thielen gone - enough to potentially be the #2 fantasy tight end behind Travis Kelce. Thielen is past the point in his career where he was making a big enough impact for this to hurt Kirk Cousins' outlook.
Vikings Fantasy Winners: K.J. Osborn, T.J. Hockenson