Photo: Vincent Carchietta, USA Today Sports
Links to similar discussions on other positions:
Dynasty Risers
Dynasty Fallers
---
NFL free agency is a significant catalyst for dynasty value change. Our staff gathered to identify potential dynasty trade targets and players you could buy low or sell high. This section is about wide receivers with rising dynasty values.
Garret Wilson, NY Jets
Jason Wood - Garrett Wilson caught 83 passes for 1,103 yards as a rookie catching passes from Zach Wilson, Joe Flacco, and Mike White. Now he'll be the best receiver at Aaron Rodgers' disposal. While Allen Lazard's presence and Rodgers' tendency to distrust new teammates is a risk, Wilson's star is too bright to expect him not to be the alpha logically. We shouldn't expect peak Davante Adams production, but there's no reason Wilson can't sustain top-10 fantasy value going forward.
Find wide receivers to avoid with our Dynasty Fallers here >>>
Dave Kluge - Although not official, Aaron Rodgers' addition to the New York Jets would significantly boost Garrett Wilson's production. Wilson garnered 147 targets last year, sixth-most in the NFL, on his way to Offensive Rookie of the Year. He established himself as one of the best receivers in the league and was only hindered by poor quarterback play from Zach Wilson. Rodgers has a history of supporting elite WR1s, and Wilson would be the best prospect ever to catch passes from the future Hall of Famer. Although Allen Lazard could be an annoying thorn in the side, Wilson's ceiling is finishing as fantasy's overall WR1.
Gary Davenport - Not to continue beating a drum already covered in dents, but the stars are appearing to align for Garrett Wilson to go from Offensive Rookie of the Year to fantasy superstar. Wilson caught 83 passes for over 1,100 yards last year on the way to a WR21 finish—and he did that after spending half the season catching worm-burners from Zach Wilson. Say what you will about where Aaron Rodgers is at this point in his career, but by any reasonable estimation he's about 37 million jillion percent better than Zach Wilson is or ever will be. It may take some time for the two to develop a rapport, but once they do? Watch out.
Dan Hindery - Garrett Wilson continues to rise as we creep toward the Aaron Rodgers trade finally becoming official. Going from Zach Wilson to Rodgers would be a huge upgrade for the 2022 NFL Rookie of the Year. Wilson gets this honor almost by default, as it was the quietest free agency period for wide receiver moves in recent history.
Will Grant - The Aaron Rodgers to New York Jets drama will continue to play out, but eventually, the teams will figure it out. Once complete, the immediate winner becomes Garrett Wilson as he heads into his second season with Rodgers at the helm. Yes, the Jets signed Allen Lazard to help smooth the transition for Rodgers when he comes to town, but Wilson is the clear #1 option in this offense. Rodgers will look to him often. Wilson posted 1100 yards and four touchdowns last year with the revolving door of bad quarterbacks under center. With Rodgers calling the shots, Wilson becomes a top-10 fantasy wide receiver in a dynasty format.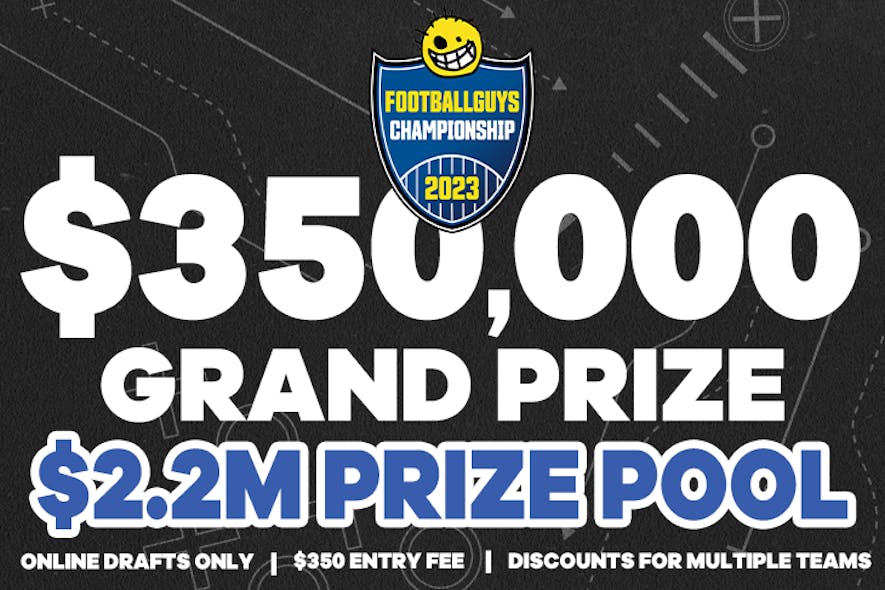 Ben Cummins - The Tennessee Titans were hurting for receivers last season, have since released Robert Woods, and haven't signed any relevant pass catchers in free agency. Last year's first-round pick, Treylon Burks, is entering his age-23 season and is the current clear-cut WR1 on the team. Burks had a forgettable rookie year, but it's important to note he missed six games due to injury and was more of a raw prospect coming out. And he still averaged 40.4 receiving yards per game despite only playing in seven healthy contests with Ryan Tannehill. Burks is a player on the rise within his career arc and team environment.
Andy Hicks - The Giants have been searching for a leading receiver since Odell Beckham Jr left five years ago. Parris Campbell has struggled with injury since arriving in the league in 2019. Campbell has the opportunity to be a starting receiver for the Giants and a good dynasty option on the cheap. Location means everything, and opportunities like this are rare for receivers in Campbell's position.
Matt Montgomery - Adam Thielen goes from an offense loaded with talent and lots of mouths to feed in Minnesota to being arguably the most proven talent on the Carolina Panthers offense. The quarterback may be an issue here with consistency, but this change in scenery eliminates competition for Thielen. Going from competing with Justin Jefferson, Dalvin Cook, and T.J. Hockenson for targets to Hayden Hurst and Miles Sanders, this is a no-doubt upgrade for Thielen's potential. He also can be acquired relatively cheaply to boost wide receiver depth with WR2 upside.
Chad Parsons - Brandin Cooks was traded to Dallas, and Robert Woods is hardly a notable addition for Houston at his age and state of decline in recent years. The Texans have a host of draft picks in the early rounds, but Collins is set up to surge forward in 2023 if the quarterback situation improves from Davis Mills.
Joey Wright - Would it be weird to say that Josh Reynolds, Kalif Raymond, and D.J. Chark have me pumped for Jameson Williams? Almost every week last season, one of those three receivers found a way to put up a double-digit fantasy performance next to Amon-Ra St. Brown. Even in those high-scoring moments, they felt like placeholders as the Lions knew Williams, who they moved up 20 spots in the 2022 NFL Draft to get, would spend much of the season on the sideline. We did get a glimpse of Williams toward the end of 2022. It only took two plays - a 44-yard touchdown reception and a 40-yard end-around rush - to boost my expectations further. Savvy dynasty managers can use an essentially voided first-season stat line to add Williams to their team at what could be his lowest career value.