Photo: Steve Mitchell, USA Today Sports
This is the fourth year putting together these rankings and the hope is that the process behind them continues to improve each year. Back in 2016, I detailed my approach and the five main factors to consider. This is my attempt to take in and parse a lot of information and provide a starting point for your own rankings. Make your own talent judgments. I am not a tape grinder and have no delusions of grandeur regarding scouting ability. Where I hope to add value is in lending some context to each player's production to date, explaining the implications of the spot they have earned on the depth chart, and giving my own opinion on the relative talent levels of each player for what that is worth.
Coming at this from a bit of a different angle hopefully adds to the greater conversation in the community. While not a scout, I am an avid college DFS player and spend a lot of time each week trying to figure out relative talent disparity between teams and players to make accurate weekly fantasy projections. Also, being a longtime college football fan and follower of recruiting helps when trying to add context.
The article is broken into three parts:
Summary for non-devy dynasty players. Even if you aren't playing the devy format, it is helpful to know the relative strengths of the upcoming draft classes to properly value future rookie picks. This section is a quick overview to familiarize you with the names of the top prospects and give you an idea of which positions will be strongest in future drafts.
Over-arching trends. A look at some of the big-picture trends in both college football and the NFL and how they impact the devy rankings.
The Devy Top 100. A listing and breakdown of the top prospects.
Part 1: Summary
If you are trying to determine the value of 2020 and 2021 rookie picks and want to look ahead at what the positional and overall class strenghtsrn and weaknesses are, this summary should prove useful.
The 2020 Class
Next year's draft class looks loaded, though in a different way than would have been predicted at this time last year.
The 2020 running back class is above-average but it doesn't look as special as it once did. After so many backs burst onto the scene and starred as true freshmen, many of those same backs slumped as sophomores (for example, J.K. Dobbins and Cam Akers). Some who avoided the sophomore slump still failed to make progress in key areas of their games (for example, Jonathan Taylor as a receiver). The 2020 running back group is probably being overrated a little bit by the dynasty community but is still really good. Travis Etienne and D'Andre Swift still look like potential stars. Akers and Dobbins could easily bounce back as juniors. Taylor is very talented, if a bit one dimensional. Eno Benjamin, Chuba Hubbard, Najee Harris, and Kylin Hill all look like potential Day 2 prospects as well.
Meanwhile, we could be looking at the best wide receiver class since 2014. While some of the 2020 backs disappointed last year, the top 2020 wide receivers almost all made significant leaps. The class once thought to be solid but weaker than the 2019 group, now looks like it will be substantially better. Already highly regarded prospects like Jerry Jeudy, Henry Ruggs, Tee Higgins, CeeDee Lamb, and Jalen Reagor all made big leaps as sophomores. At least half of them should be first round picks. Plus, Laviska Shenault and Tylan Wallace came out of nowhere to have monster sophomore seasons and look like first or second rounders. Last but not least, there is a solid group of senior prospects like Tyler Johnson, Bryan Edwards, K.J. Hill, and Collin Johnson who would have likely been mid-round picks in 2019 but decided to return to school to try to improve their stock.
It may go against conventional wisdom, but don't be afraid to target some of these top wide receivers over the second tier backs like Dobbins, Benjamin, and Akers. Henry Ruggs is an example of a player who probably isn't getting enough hype.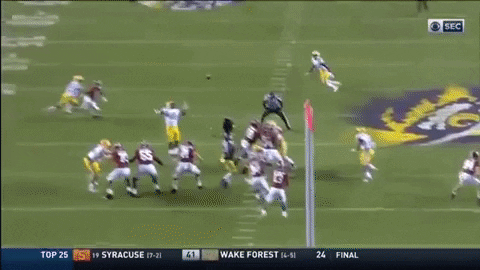 For Superflex leagues, the quarterback position also looks above average. Tua Tagovailoa and Justin Herbert are likely to be Top-10 overall picks and Jake Fromm shouldn't be too far behind them. Plus, there are enough other high-upside prospects to assume another first rounder will emerge between now and next April.
With the three main fantasy positions all tracking to be above-average, it is easy to see why 2020 rookie picks are such valued commodities. It would be wise to start valuing those potentially early 2020 1st rounders like premium assets at least on par with talented young players like D.J. Moore and Kerryon Johnson.
The 2021 Class
Any discussion of the 2021 class has to start with the Clemson duo of quarterback Trevor Lawrence and wide receiver Justyn Ross. The two dominated the college football playoffs and look like special prospects. It feels crazy to say two years in advance, but it would be surprising if Lawrence isn't the #1 overall pick of the 2021 draft and Ross shouldn't have to wait much longer in the green room than his quarterback.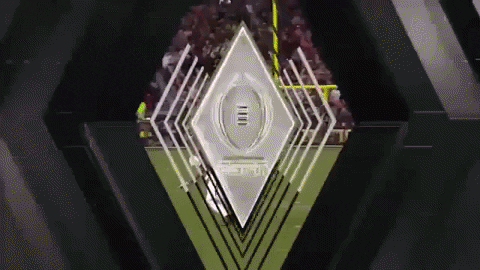 In addition to Ross, wide receivers Rondale Moore and Jaylen Waddle also look on the path to the first round of the NFL Draft.
It is tracking to be a down class at running back, similar to the 2019 class. Keaontay Ingram was a pleasant surprise but it wasn't considered a strong incoming class at the position and that is how it played out on the field. It didn't help that top prospect Zamir White suffered his second torn ACL.
Overall, it looks like a below average class (especially in one quarterback leagues) despite some elite talents at the top.
Part 2: NFL and College Trends
Before diving into the top 100 devy prospects, let's take a look at the big picture to try to get an edge on the competition. This deep dive won't be for everybody, so feel free to skip ahead. Trying to figure out where the game is headed in terms of offensive and defensive strategies at both the college and NFL level is becoming increasingly important. With devy information increasing and improving exponentially each season, getting an edge on your league mates is harder than ever. Perhaps the edge can be found most easily from understanding bigger picture trends than in the smaller picture details of individual scouting reports.
NFL and Fantasy Football Trends
We aren't evaluating college prospects in a vacuum. Instead, we are trying to predict what talents NFL teams will value in future drafts and which players have the potential to earn the roles that are most valuable for fantasy football. To do so, we have to pay close attention to the trends across the NFL and try to anticipate what the league will look like in a few years when these prospects start to enter their prime NFL years.
Here are some of the trends which have influenced these rankings:
The Rise of the Pass-Catching Back
These are rankings for PPR scoring. As such, running backs who have any potential at all to be true 3-down backs in the NFL are going to get the benefit of the doubt because no role in fantasy football is nearly as impactful as a top 3-down running back.
I recently did a study to figure out which players had the most actual fantasy value over the last three years. One interesting takeaway was the eight most valuable seasons over the stretch were all had by running backs.
2016

26.4

75

12

2016

25.1

77

15

2017

25.8

64

15

2017

23.0

85

15

2018

26.3

59

14

2018

24.3

107

16

2018

24.0

91

16

2018

23.2

81

15

Averages

24.8

79.9

14.8
In these eight monster fantasy seasons, the backs averaged 80 receptions. An elite pass-catching back is like a cheat code in PPR leagues and it is an uphill battle trying to win a dynasty league without at least one on your roster.
Thus, you will see some backs with above-average pass catching ability rated higher here than in other places. The reward of finding the next Alvin Kamara, Christian McCaffrey, Le'Veon Bell, David Johnson, or Todd Gurley is so massive, it is worth the risk of passing on some higher floor options to swing for the fences trying to find a true three-down back.
The Increasing Premium placed upon speed and YAC at wide receiver
Perhaps the clearest takeaway from the 2019 NFL Draft was how much teams are now valuing speed over other strengths at wide receiver. Size is a much less valued commodity, which was made clear when 166-pound Marquise Brown was the first off the board at the position. We also saw players like Mecole Hardman, Parris Campbell, and Andy Isabella go off the board before most of the plus-sized receivers (D.K. Metcalf, Hakeem Butler, Kelvin Harmon, etc.). In putting together these rankings, there is a similar preference given to speedsters and playmakers over guys whose top asset is physicality. It is one reason why the 2020 wide receiver class looks so strong. There hasn't been a group with this many blazing fast playmakers to enter the NFL in a long time.
The continued rise of athletic quarterbacks
Quarterbacks do not necessarily have to be dual threats but the NFL does seem to be placing more of a premium on athleticism than before. As with receiver, the focus is more on mobility and playmaking than pure size. This was evident when 5'10 Kyler Murray went first overall. It was also borne out when the athletic Daniel Jones was drafted ahead of the less mobile Dwayne Haskins. Thus, we aren't going to overrate guys like Jacob Eason who look the part but haven't produced and aren't going to penalize players due to being a couple inches shorter than ideal.
College Trends: The Superteams
We also want to look to the college level to see if there are any trends that can help give us an edge over our competition in devy drafts. One recent development is that the college football playoff has had the unexpected impact of helping the rich get richer when it comes to recruiting. The depth charts at these top schools are absolutely loaded with talent, which means we need to take any "dominator rating" or market share analytics with a huge grain of salt because the quality of the competition for touches varies wildly from school to school. Let's look at the 2018 Alabama skill position depth chart for an example:
| | | |
| --- | --- | --- |
| | | |
| QB1 | Tua Tagovailoa | 1st Round |
| RB1 | | 1st Round |
| RB2 | | 3rd Round |
| RB3 | Najee Harris | 2nd-3rd Round |
| RB4 | Brian Robinson | 4th-5th Round |
| WR1 | Jerry Jeudy | 1st Round |
| WR2 | Henry Ruggs | 1st Round |
| WR3 | DeVonta Smith | 2nd-3rd Round |
| WR4 | Jaylen Waddle | 1st Round |
| TE | | 2nd Round |
How do you make an apples-to-apples statistical comparison of Rondale Moore at Purdue to Jaylen Waddle at Alabama when Moore is probably the only NFL talent at the skill positions for his team while Waddle is sharing the field and splitting touches with a gaggle of future pros? Analytics adds to the conversation, but we need to make sure we are understanding the context of player production first and foremost.
The Explosion of Investment in High School Scouting Resources and the Rich Getting Richer
In addition to making extra effort to adjust our approach to analytics to reflect reality, another strong devy draft strategy (especially in deeper leagues) is to trust the judgment of the top college teams and target the players they targeted in recruiting and mostly ignore the high school highlight videos.
Why are the top colleges better than ever at identifying and evaluating recruits?
There has been a massive investment in NFL-style scouting departments at the college level, which is causing more and more of the elite talent to end up at the top programs. For the top schools, NCAA football is a cash cow. Teams are bringing in over $50M dollars per year just from conference television deals alone. Without the expense of paying players, there has been a ton of free money. It led to a major increase in coaching salaries a decade ago. In recent years, the amount of financial resources put into support and front office-style roles has exploded.
Let's look at Alabama as an example. The Crimson Tide hired Bob Welton, who spent a decade as an NFL scout before transitioning into "player personnel" at the college level five years ago. He has three full-time assistant directors of player personnel in his department, some of which have experience in NFL front offices and their support staffs. There's also the director of recruiting and his large department, along with the giant player development department that focuses on player's careers after they've enrolled. Last but not least, on top of the coaching staff, Alabama also employs 11 football analysts who assist in game-planning and scouting. These are often relatively high-level, experienced guys. Former head coaches like Butch Jones, Major Applewhite, and Mike Stoops are now film grinders for Saban. There's also the veritable army of grad assistants.
The result is that the top schools are getting better than ever at identifying talent, resulting in less recruiting misses and less talented players slipping through the cracks. Josh Jacobs is a recent example of a recruit from Oklahoma who had a very modest offer list but was unearthed and correctly evaluated by Alabama's massive operation. Travis Etienne was under the radar at a small school in Louisiana but Clemson's giant scouting department was still able to find him late, convince him to sign, and turn him into a star.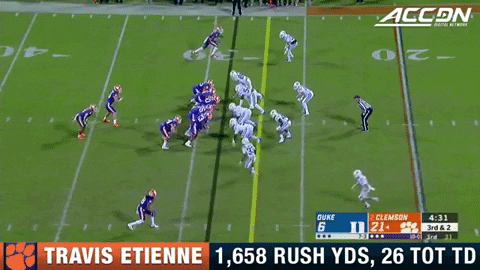 Long story short, if you are drafting freshmen, try to focus on the players who had real offers from the top schools. Also, don't forget about the sophomores and juniors like Josh Jacobs who didn't immediately star at the college level.
Top 100
1. D'Andre Swift, Georgia RB (2020)
As a pure runner, Swift probably would rank behind a couple backs in this class. He also had a down season overall with a slow start due to nagging lower-body injuries. When he got going late in the year, we saw wow plays like this one: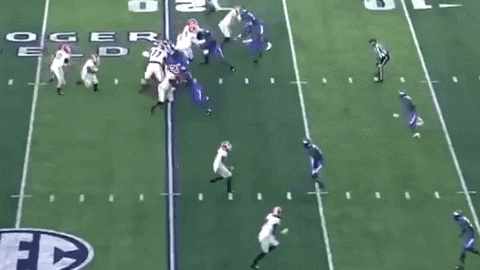 The thing that makes Swift so intriguing though is his receiving ability. It's not just that he has good hands but above and beyond that, he may have the talent to run wide receiver-like routes and motion out into the slot at times. Part of the reason Saquon Barkley was such a clear cut #1 in the 2017 Devy Top 100 was his receiving ability and we saw the massive fantasy impact he was capable of when he caught 91 passes as a rookie. Swift isn't as freaky an athlete as Barkley but has a chance to carve out a similar role in the NFL as a 200+ carry, 60+ catch back if he lands in the right offense.
NFL Comp: Christian McCaffrey
2. Jerry Jeudy, Alabama WR (2020)
Jeudy feels like the safest bet to be a top-10 pick at wide receiver since A.J. Green. The true sophomore has elite speed, quickness, and route-running chops. There isn't a real weakness to his game and he stood out as the clear go-to guy on an absolutely loaded Alabama offense. He has been timed in the mid-4.4s but might play even faster. He blows by guys on deep routes and ran away from some of the fastest defenders in the SEC. Jeudy is on pace to enter the league with more hype than any pass catcher since at least 2015 (Amari Cooper).
Player Comp: Rich man's Amari Cooper
3. Travis Etienne, Clemson RB (2020)
As a pure runner, Etienne is the top guy and is right up there with past top-3 ranked devy runners like Saquon Barkley, Nick Chubb, and Leonard Fournette. Once Etienne adds weight to his upper body, he will have the ideal build for a workhorse back. He also has elite burst and the legit 4.4 speed to take it to the house if he gets even a small crease. Etienne has excellent balance and bounces off tackles like Alvin Kamara. He makes plays like this one regularly: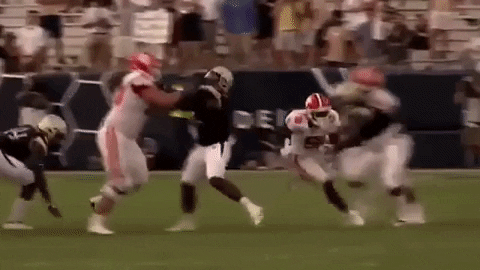 The big difference between Etienne and Kamara is receiving skills, however. Etienne hasn't shown much as a pass catcher. In fact, even his career total of 17 receptions is inflated because many of those were just shovel passes. To take Etienne over other elite prospects like Lawrence and Jeudy, you have to believe in his ability to develop in this area. Otherwise, he will be limited to more of a two-down role in the NFL.
NFL Comp: Faster Alvin Kamara without elite receiving skills
4. Trevor Lawrence, Clemson QB (2021)
There is not much debate; Lawrence is the top quarterback prospect. In fact, he is probably the top college prospect overall since Andrew Luck. He is big, mobile, and has incredible arm talent. He also seems to have elite intangibles and proved he could perform in the highest pressure situations with a couple of monster performances in the college football playoffs. There is a strong case for Lawrence at #1 overall in Superflex leagues. It just comes down to positional value in your league and how you want to build your team. The decision between Lawrence and Swift, Etienne, and Jeudy at the top of devy drafts is similar to the choices you have to make in the first round of a startup between guys like Andrew Luck/Baker Mayfield/Deshaun Watson and Alvin Kamara/Christian McCaffrey/DeAndre Hopkins.
Player Comp: Andrew Luck
5. Justyn Ross, Clemson WR (2021)
Ross is 6'4 with a solid build and long arms but moves like a much smaller guy. While he probably isn't a burner (poor testing in high school), nobody caught him in the open field last season. Averaging 21.7 yards per catch should be proof enough of his play speed. He was absurdly productive considering his limited playing time, averaging nearly 5 yards per route run. Ross absolutely dominated the college football playoffs (6-148-2 against Notre Dame and 6-153-1 against Alabama) and is a good bet to see his value go up even further over the next 12 months as the hype continues to build.
Player Comp: A.J. Green
6. Tua Tagovailoa, Alabama QB (2020)
Tagovailoa has had an incredible start to his college career, leading Alabama to a come from behind win in the 2017 national championship and then posting absurd efficiency numbers in 2018 (12.3 A/YA). While he is the heavy favorite to go first overall in the 2020 NFL Draft, Tagovailoa is likely to have his game nitpicked over the next 10 months and isn't quite as much of a sure thing as Lawrence. His height (6'0) will be a concern for some and he might also face some questions about how much he benefitted from what looks like a historically-loaded wide receiver corps.
Player Comp: Less athletic Russell Wilson
7. Henry Ruggs III, Alabama WR (2020)
Ruggs may be the second best Alabama wide receiver but still has a decent chance to be the #2 wide receiver selected in the 2020 draft. He has just average size (6'0, 190) but boasts absolutely blazing speed, timing in the mid-4.2s at Alabama's recent spring testing. While you certainly take reported hand times with a grain of salt, Alabama's reported numbers have been almost identical to the official times guys eventually ran at the NFL combine and always at least within .10, so you feel pretty confident Ruggs is at least a sub-4.4 guy. He isn't just a workout warrior either. He caught 46 passes for 741 yards and 11 touchdowns last season despite sharing the field with second-rounder Irv Smith Jr. and three other pass catchers who should also be drafted in the first two rounds of the draft eventually.
Player Comp: Sammy Watkins/Brandin Cooks hybrid
8. Laviska Shenault, Colorado WR (2020)
Shenault is the toughest projection of all of the top prospects because his game is so unique. The aptest recent comparison is Cordarrelle Patterson, which is a mixed blessing. Like Patterson, Shenault is a productive college player with some elite physical traits who could be a 1st-round draft choice. However, Patterson has not become polished enough to be an impact wide receiver and hasn't been able to transition to a full-time running back role either. It is worth wondering if Shenault might suffer the same fate. If he puts it all together, he could be a poor man's Julio Jones but that is a bigger "if" then some are assuming.
Player Comp: Cordarrelle Patterson with more polish
9. Tee Higgins, Clemson WR (2020)
Getting outplayed by a true freshman usually isn't a good look, but we are going to just chalk that up to Justyn Ross being special and not view it as an indictment of Higgins. He still had a breakout season as a true sophomore, catching 59 passes for 936 yards and 12 touchdowns. Higgins was able to out-leap defenders and come down with tough contested catches with regularity. He isn't a burner and doesn't always get a ton of separation, though. With few exceptions (N'Keal Harry), NFL teams didn't value that skillset very highly in the 2019 NFL Draft. Thus, Higgins feels like less of a lock to be drafted in the first round than he did a few months ago.
Player Comp: Less physically imposing Mike Williams
10. Rondale Moore, Purdue WR (2021)
Moore was insanely productive as a true freshman, catching 114 passes for 1,258 yards and 12 touchdowns. He also rushed for 213 yards and 2 touchdowns. Moore is only 5'9, 175 pounds. If there is one major takeaway from the 2019 NFL Draft, it is that NFL teams seem much less concerned about size than they were in the past. Moore is about the same height but much more solidly built than Marquise Brown, the first receiver off the board. Moore is also every bit as fast and explosive as Brown. Moore chose Purdue over offers from teams like Alabama and Ohio State and stood out as far and away the most talented player on his offense and Purdue built their entire offense around his skills. He should continue to put up absurd numbers over the next two seasons before heading to the NFL as a first-round pick in 2021.
Player Comp: Percy Harvin
11. Cam Akers, Florida State RB (2020)
Akers was one of the highest-rated running back recruits of the last half decade and had a strong freshman season. He seemed to regress as a sophomore, however. Florida State's offense was a complete disaster, which makes it much harder to evaluate Akers. There are so many plays like this one where Akers just doesn't have a chance: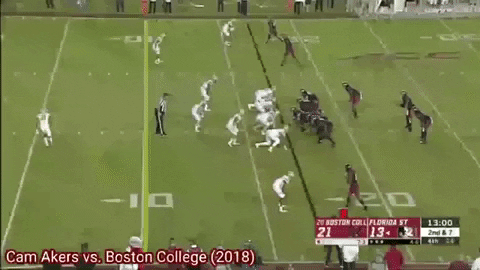 He didn't make something from nothing often enough to view him as an elite prospect but there were enough flashes to give you hope that he is going to be a better pro than college player. You still see the toughness, receiving ability, and burst that could lead to a featured role in the NFL.
Player Comp: Compact Miles Sanders
12. Jonathan Taylor, Wisconsin RB (2020)
Taylor is a talented runner, good athlete, and has great intangibles. He also looks really awkward as a receiver, which does not help his cause. So where does that leave him in terms of the number of snaps he can expect in the NFL? How much fantasy upside does he really have in PPR scoring? Taylor is one of the toughest players to rank because doing so requires some deep thought about the direction of the running back position in the NFL.
Player Comp: Poor man's Adrian Peterson
13. CeeDee Lamb, Oklahoma WR (2020)
Lamb should be tuned in to the Baltimore Ravens every Sunday because the performance of Marquise Brown is likely to have a big impact on Lamb's 2020 draft stock. It has to be viewed as a major positive for Lamb that Brown went off the board as the first receiver. Lamb operated as the 1B to Brown's 1A last season and didn't show the same blazing speed. However, Lamb is also built much more like the NFL prototype at 6'2, 190 pounds. With regard to following in Brown's wake and Lamb's devy stock getting a boost, it did spark a memory of one of my bigger misses. Looking back at my 2016 devy rankings, the top-10 all hit but KD Cannon at #11 sticks out like a sore thumb. He moved up my rankings late after his running mate at Baylor, Corey Coleman, went off the board as the top receiver in the 2016 NFL Draft.
Player Comp: Robert Woods
14. Jalen Reagor, TCU WR (2020)
It has been easy to discount Big 12 receivers over the past decade. Even when highly productive in college, they have often slid in the draft. The few drafted highly (Kevin White, Corey Coleman, Josh Doctson, etc.) have mostly busted. However, the NFL has been adopting many of the offensive schemes featured in the Big 12 and the stigma against receivers from the conference has lessened somewhat (it is worth noting Big 12 stars like Hakeem Butler, Greg Jennings, David Sills, and Lil'Jordan Humphrey all slid to Day 3 or out of the 2019 draft entirely). Reagor has a lot of the attributes that made Marquise Brown a hot commodity and is much more solidly built to boot.
Player Comp: T.Y. Hilton
15. Justin Herbert, Oregon QB (2020)
Herbert is raw but has the physical traits that NFL scouts drool over. Physically, he is every bit as big and athletic as Daniel Jones and has a much bigger arm. Herbert would have probably been in the mix right alongside Jones as a top-10 option had he decided to enter the 2019 NFL Draft. He seems to be a high-character guy and hard worker, even if some scouts have questioned his toughness.
Player Comp: less extreme boom/bust Josh Allen
16. Jaylen Waddle, Alabama WR (2021)
It is interesting to consider what Waddle's numbers would have been had he gone to Purdue and been featured in the same way Rondale Moore was. The two have similar skill sets and both looked fantastic as a true freshman. The big difference was Waddle had to share the field with four other more experienced pass catchers who have been or will be drafted highly. I don't see much of a gap between the two as prospects, which makes Waddle a fantastic target going off the board at least a round after Moore.
Player Comp: Tyreek Hill
17. Justin Fields, Ohio State QB (2021)
Fields is the definition of a high-risk, high-reward pick. The risk comes from the fact that he has proven little at the college level and we don't really know how he will hold up under the pressure of being the top quarterback at a major program. Fields played relatively sparingly as a true freshman for Georgia last season before transferring to Ohio State, where he has already been granted immediate eligibility for 2019. The fantasy upside is off the charts, however. Fields is built like a big running back and boasts legitimate sub-4.5 speed. He also has a big-time arm and the scouting reports from his high school days say he is also accurate and possesses all of the intangibles needed to be an elite quarterback. He is also nearly guaranteed to be the starter for at least the next two seasons at Ohio State, where Ryan Day has quickly developed a reputation as a quarterback guru.
Player Comp: Cam Newton-like upside
18. Jake Fromm, Georgia QB (2020)
Fromm doesn't have a big wow factor when you watch him but he usually gets the job done. The physical traits aren't elite but they aren't deficient either. He also seems to have elite intangibles and is likely to be a player who NFL teams will feel confident making the face of their franchise. He's a good bet to be a Top-10 overall pick and NFL starter. The big question is whether he will ever be an impact player from a fantasy perspective or if his upside is capped as a QB2.
Player Comp: Andy Dalton with more charisma and better pocket presence
19. Keaontay Ingram, Texas RB (2021)
NFL teams are looking desperately for the next Alvin Kamara. Ingram might fit the bill. He has serious receiving chops at a young age and in today's NFL, that may be just as important as rushing ability. Not that Ingram is a slouch in that department either. For a guy who was slightly undersized as a freshman, news that he has added another dozen pounds of muscle since the season ended is welcome news. "I think anytime a kid puts that good weight on in a short period of time, he gets a lot of confidence," said Texas coach Tom Herman of Ingram. "You can see him running out there with confidence right now." Ingram is a guy who looks like a riser in the spring but will have to prove the added weight doesn't slow him down at all in the fall.
Player Comp: Alvin Kamara minus the elite balance
20. Eno Benjamin, Arizona State RB (2020)
Benjamin was extremely productive as a sophomore, racking up 1,905 total yards and 18 touchdowns on a whopping 335 touches (25.8 per game). He shows exciting three-down potential with excellent hands. The big question will be if he is athletic enough to earn a workhorse role in the NFL.
Player Comp: David Montgomery
21. J.K. Dobbins, Ohio State RB (2020)
Dobbins' level of play took a step back in 2018. After averaging an extremely impressive 7.2 yards per carry as a true freshman, he managed just 4.6 as a sophomore. He split carries with Mike Weber, who managed 5.5 yards per carry and at times looked the better back, which is concerning since Weber fell all the way to the 7th round of the 2019 NFL Draft.
22. Najee Harris, Alabama RB (2020)
Harris isn't built as top-heavy as Derrick Henry but the two do have some similarities in terms of playing style. Despite being huge, neither is most effective between the tackles. Harris is best utilized on plays where he can get to the perimeter and build up some speed. While the lack of power is a bit surprising given his frame, so too is his big-play ability. He is capable of ripping off large chunks at a time and is an above-average receiver, which should make him a Day 2 NFL pick next spring.
23. Garrett Wilson, Ohio State WR (2022)
Wilson was arguably the top wide receiver recruit in the class of 2019. He enrolled early at Ohio State and has been a major standout throughout the spring. Wilson doesn't have great size or speed but has shown elite playmaking skills. It is always tough to project an NFL future for a guy who should just be finishing up high school, but Wilson looks like a future first-round NFL pick.
24. Tylan Wallace, Oklahoma St. WR (2020)
In 2017, James Washington put up 75-1,549-13 before becoming a 2nd round pick of the Steelers. Tylan Wallace stepped into his shoes and posted almost identical numbers (86-1,491-12) despite working with a first-year starter at quarterback. Wallace's 2020 draft stock may be tied in some small way to how much of a jump Washington can make in his second season because both have similar games, playing bigger than their 6'0 size would indicate and excelling at contested catches.
25. Trey Sanders, Alabama RB (2022)
The top running back recruit in the 2019 class, Sanders should be a key part of the rotation from day one as a true freshman. Even though he isn't an early enrollee and will have a steep learning curve when he shows up in June, Saban has still hinted that he expects Sanders to step in alongside Najee Harris and Brian Robinson to form yet another trio of top talents at the position.
26. John Emery, LSU RB (2022)
The second-ranked running back recruit in the nation, Emery has a game similar to Derrius Guice. LSU has been surprisingly poor at running back since Guice left, so Emery has a real chance of stepping immediately into a big role. If he leads the team in rushing as a true freshman, his devy stock will be through the roof at this time next year.
27. Chuba Hubbard, Oklahoma St. (2020)
When Justice Hill missed time, Oklahoma St. didn't miss a beat with Hubbard in there. In fact, Hubbard showed more receiving chops and added an extra element to the offense. Hubbard is a converted receiver and has the skill set that gets you excited about his potential to be a big scorer in PPR leagues. Ideally, he could add another 10-15 pounds because the biggest concern is that he might be limited to more of a change-of-pace role in the NFL.
28. Kylin Hill, Mississippi St. RB (2020)
On first impression, Hill is reminiscent of Benny Snell. However, he shows flashes of the ability to be even more. For example, you never saw catches like this from Snell: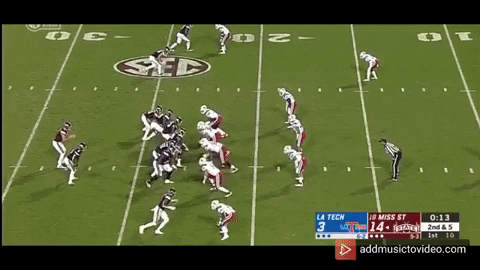 29. Joe Ngata, Clemson WR (2022)
Ngata was a consensus top-10 receiving prospect and exceeded expectations as an early enrollee in the spring. In fact, he led Clemson in receiving in the spring game with five catches for 127 yards. His receiver coach raved about his potential and compared him to Terrell Owens and mentioned him as a future first-rounder.
30. Frank Ladson, Clemson WR (2022)
Ladson was just as highly rated as his Clemson classmate Joe Ngata and also put up over 100 receiving yards in the spring game. He has drawn comparisons to Sammy Watkins and looks like one of the top incoming freshman receivers in what most consider a well above-average group at the position.
31. Seth Williams, Auburn WR (2021)
Williams was a big play waiting to happen for Auburn as a true freshman, averaging 20.5 yards per catch his 26 receptions. In addition to the big-play ability Williams has the size (6'3, 224) and knack for making contested catches to develop into one of the country's top red zone threats. He dominated the Auburn spring game with 102 receiving yards and a pair of impressive touchdown grabs.
32. JaMarr Chase, LSU WR (2021)
Chase was one of the top wide receiver recruits in the 2018 class and had a solid freshman season (23-313-3) in LSU's run-heavy offense. He has made a big jump up the rankings based on reports out of Baton Rouge that he was the Tigers best offensive player in the spring and speculation he is poised to emerge in a big way in 2019.
33. Tyler Johnson, Minnesota WR (2020)
Johnson has been extremely productive in a run-first offense (78-1,169-12 last season) and has many fans in the devy community, especially for those who put heavy weight on analytics like dominator rating. He is definitely a good college player. The question as to whether his skills will translate to the next level is not as clear cut to me. Does he have any special physical traits or is he more in the Kelvin Harmon mold?
34. Colby Parkinson, Stanford TE (2020)
Parkinson is the most intriguing of what looks like a mediocre group of tight end prospects for the next few draft classes. Though of course tight ends often develop late and nobody was talking about T.J. Hockenson at this time last year. Parkinson had a productive sophomore season (29-485-7) despite splitting time with senior Kaden Smith and taking a backseat to red zone monster J.J. Arcega-Whiteside. With both off to the NFL, Parkinson should be the top target in the Stanford passing offense. At 6'7, 240 with above-average agility and ball skills, Parkinson has mismatch potential at the next level.
35. DeVonta Smith, Alabama WR (2020)
In my opinion, you can ignore analytics like "dominator rating" and "breakout age" when a player is sharing a position group with three first-round wide receiver prospects (not to mention an elite college tight end like Irv Smith Jr.). The targets simply aren't going to be plentiful enough to put up big numbers. Smith might not be a first rounder like the other three Alabama wide receivers but he does look like a solid Day 2 prospect with excellent speed, quickness, and route-running. He is underrated and a nice late-round target in deep leagues.
36. Jafar Armstrong, Notre Dame RB (2020)
Armstrong is worth targeting as an upside play due to his athleticism, receiving ability, and toughness. Physically, he is nearly 220 pounds but also has proven speed (state champion in the 100 and 200-yard dash in high school). He played surprisingly well last season after transitioning from wide receiver to running back full-time. Reports are positive about his progress this spring and if he makes the expected leap in his second season, he should shoot up the prospect lists. Speaking of lists, Armstrong isn't on many of the devy boards and is flying way under the radar. So you don't have to take Armstrong this high even if he deserves consideration in this range. Instead, bide your time in deeper leagues and snag him late.
37. Zamir White, Georgia RB (2021)
White was the top running back recruit in the class of 2018 despite suffering a torn ACL midway through his senior season of high school. He made a quick recovery and looked poised to potentially contribute for Georgia as a true freshman before tearing the ACL in his other knee in 2019 preseason practices. The injuries and potential for more in the future makes White a high-risk pick, though it is worth noting that both Todd Gurley and Nick Chubb suffered serious knee injuries at Georgia. White is noted as an extremely hard worker and his ACL recovery appears to be going well enough that White should be full go by the season opener.
38. Ke'Shawn Vaughn, Vanderbilt RB (2020)
Vaughn looks like the top senior running back heading into the 2019 season. He passed up what likely would have been an early Day 3 landing spot in the 2019 draft to go back to school and try to improve his stock in what the coaches are saying will be an even more prominently featured role after he finished third in the SEC in rushing yards last season.
39. Lyn-J Dixon, Clemson RB (2021)
Dixon flies under the radar a bit because he saw only limited playing time as a true freshman due to having Travis Etienne, Tavien Feaster, and other veterans ahead of him on the depth chart. But when he did get his chances, Dixon flashed in a big way. He averaged 8.8 yards per carry and looked a future star. Dixon will probably have a quiet 2019 season due to the talent ahead of him but may explode and emerge as a top NFL Draft prospect when he takes over in 2020. Dixon deserves to be graded on a curve given that he wasn't an early enrollee and didn't arrive at Clemson until a couple months before the season started. It is also notable that he beat out Feaster for the #2 role this offseason, leading Feaster to transfer.
40. Trey Sermon, Oklahoma RB (2020)
At times, Sermon looks like Kareem Hunt as he's pinballing off of tacklers and breaking off long runs. He has great size and balance. However, it is hard to determine how much of the production is due to Sermon's talent and how much is due to the overall strength of the Oklahoma offense. Especially eyebrow-raising is the fact Sermon's backup averaged 8.9 YPC, 3.1 more than Sermon managed. Sermon has also had multiple injuries over the past few years.
41. JaTarvious Whitlow, Auburn RB (2020)
Whitlow was obviously raw last season as a redshirt freshman and will need to make major strides to be an early round NFL selection. However, he got better as the year went on and it is reasonable to expect he makes a jump in his second season as the starter. He has tantalizing tools. Great hands, the ideal build (6'0, 220), and the toughness to earn hard yards between the tackles.
42. Max Borghi, Washington St. RB (2021)
It feels cliche to compare Borghi to Christian McCaffrey but it is impossible to ignore McCaffrey when looking at a best-case scenario for Borghi. The two were the same size as freshmen and Borghi also has similar speed and strength. As a true freshman, Borghi caught 53 passes as the backup to James Williams. If Borghi can pack on another 10 pounds and prove his ability to stay healthy with more touches, he could be a big riser up this list.
43. Donovan Peoples-Jones, Michigan WR (2020)
Peoples-Jones is a freak athlete, with legitimate low-4.4. speed at 6'2, 200 pounds. The former five star could be one of those guys who is a hot commodity in the NFL Draft even without standout production in college (think Mecole Hardman). The question will be why he hasn't been more productive. His 889 receiving yards through two seasons is solid but disappointing given the hype that preceded his arrival in Ann Arbor.
44. Tamorrion Terry, Florida St. WR (2020)
Terry is a lanky 6'4 speedster in the mold of former Bengal Chris Henry who proved himself a dangerous deep threat in his redshirt freshman season. He averaged over 21 YPR on his 35 receptions and showed the ability to blow by defenders down the field. He should get more big-play opportunities with Kendal Briles now running the Seminoles offense and a big statistical season could give Terry's dynasty value a big boost.
45. Jeremiah Holloman, Georgia WR (2020)
Holloman is a freaky size-speed specimen with 4.4 speed at 6'2, 200 pounds. Like his former teammate Mecole Hardman, Holloman could be a guy the NFL falls in love with despite the lack of college production (just 25 career catches as he heads into his junior season). Holloman could easily answer the production questions with a big 2019 season. According to Kirby Smart, Holloman is the clear #1 target in the Georgia offense after a strong spring.
46. Bryan Edwards, South Carolina WR (2020)
Edwards is a big-bodied wide receiver with solid athleticism and above-average production (2,229 receiving yards over three seasons). He will almost certainly play in the NFL. To my eye, he looks more like a late Day 2 type of draft prospect than an elite player an NFL team will want to invest huge draft capital to acquire.
47. K.J. Hill, Ohio State WR (2020)
Hill should be the top wide receiver for Ohio State in 2019 and has the potential to put up huge numbers in the slot now that he is no longer splitting snaps there with Parris Campbell. Unlike some other recent Ohio State receivers, Hill isn't a burner. He is much more polished and technically sound than any Buckeye pass catcher since Michael Thomas, however.
48. Amon-Ra St. Brown, USC WR (2021)
St. Brown is well ahead of the curve as a route runner and made an instant impact as a true freshman (60-750-3). The big question will be if he can make big leaps moving forward or if he is already more of a finished product. Even if it is the latter, St. Brown looks like someone who should have a long and productive NFL career.
49. Jerrion Early, Mississippi RB (2022)
Ealy is one of the most talented running back recruits in the country. He's also a big-time prospect in baseball and could end up being a first-round pick in the MLB Draft this summer. Can he work out a deal like Kyler Murray did that lets him put off the NFL versus MLB decision for a couple years while he plays both sports in college?
50. A.J. Dillon, Boston College RB (2020)
Dillon has been a productive runner and is very athletic for his size. In fact, he could be a guy who puts up a huge speed score at the NFL combine. However, despite the athleticism, he still has a lot of the weaknesses you'd typically expect from a 245 pound back. The question will be how many teams will be in the market for this style of back in 2020.
51. Kennedy Brooks, Oklahoma RB (2020)
Brooks is a tough prospect to get a read on. He broke off long runs on a regular basis on his way to averaging 8.9 YPC but didn't necessarily look like a standout in any one aspect. He certainly gets the job done at the college level but it remains to be seen if he has the athleticism for his game to transfer at the next level.
52. Michael Warren, Cincinnati RB (2020)
With Darrell Henderson off to the NFL, Warren should be the top running back in the American conference. He is a powerful, productive back with good feet. The question will be whether he has enough athleticism to earn a featured role at the next level.
53. Zach Charbonnet, Michigan RB (2022)
A big back ranked as one of the top incoming recruits at the position, Charbonnet could be an instant impact player on a depth chart lacking elite options ahead of him.
54. DJ Williams, Auburn RB (2022)
Williams was a late bloomer who didn't garner much attention until late in the process. Once he came on the radar, almost everyone wanted him. His late rise was similar to Travis Etienne's a couple years ago. Williams also impressed as an early enrollee in the spring. Given Auburn's history of producing top running back prospects, Williams is a great late-round target in deeper leagues.
55. JT Daniels, USC QB (2021)
2019 will be a big season for Daniels and his NFL prospects given the huge change in system now that USC is installing the air raid offense. Daniels seems to have the intelligence and intangibles you want. It's possible some of the shaky play in 2019 was just the typical growing pains of a true freshman. If so, Daniels has enough talent to rocket up this list by next spring.
56. Brock Purdy, Iowa State QB (2021)
Purdy was extremely impressive for a true freshman quarterback. He took over as the starter midway through the season and provided a spark to a struggling offense. He is not an elite dual-threat athlete but, like Mitch Trubisky, he is going to get his yards on the ground. Purdy doesn't have the ideal size NFL teams look for but that doesn't seem to be as big a problem as it once was. If Purdy can make strides as a sophomore even without his top weapon, Hakeem Butler, he could emerge as a strong NFL prospect. The lack of recruiting hype means Purdy can be drafted much later than his more hyped 2021 draft-eligible quarterback classmates.
57. Breece Hall, Iowa State RB (2022)
Hall has a similar game to the recently departed David Montgomery. He is big (215 as a high schooler) but nimble and a very good receiver. As an early enrollee, he impressed enough in the spring to enter his true freshman season as the likely starter.
58. Collin Johnson, Texas WR (2020)
Johnson is huge. A legitimate 6'5 and maybe taller. It is fair to wonder if that is a positive or negative in the eyes of the NFL. There haven't been many receivers that tall who have made an impact in the NFL lately and the size at wide receiver seems to be the one factor a lot of devy drafters have been overrating in recent drafts. Johnson has been productive as a jump ball specialist but I'm not really buying talk of him as a first-round prospect.
59. Jadon Haselwood, Oklahoma WR (2022)
Haselwood was the consensus top receiver in a loaded class. He has good size and is dominant in contested catch situations. Haselwood has a lot of competition for snaps at Oklahoma and if he quickly emerges as a productive player in the fall will be a hot devy commodity next spring.
60. George Pickens, Georgia WR (2022)
Pickens was a consensus top-five recruit at the wide receiver position and was chased hard by the entire SEC. He flipped from Auburn to Georgia at the final minute and will have a decent chance of making an impact as a freshman given that the Bulldogs lost three of their top four receivers to the NFL.
61. Justin Jefferson, LSU WR (2020)
Jefferson isn't the crazy athlete that you typically expect to take the field at wide receiver for LSU. However, he went out and made as many plays as any Tigers pass catcher since Odell Beckham Jr and Jarvis Landry were in town. It will be interesting to see if Jefferson can remain the top option in the passing game ahead of the five star sophomore receivers.
62. Jermar Jefferson, Oregon St. RB (2020)
When Artavis Pierce suffered an injury early in the season, Jefferson was thrust into a workhorse role as a true freshman. He handled it well, rushing for 1,380 yards and also catching 25 passes.
63. Wandale Robinson, Nebraska RB/WR (2022)
If you're looking for the next Rondale Moore, Robinson is as good a candidate as any. He wasn't the highest rated recruit due to his lack of size but, like Moore, he was heavily pursued by top teams like Alabama and Ohio State because he can absolutely fly. Robinson could instantly take on a featured role in Nebraska's offense as a slot receiver and should get some carries as well.
64. Julian Love, Utah St. QB (2020)
Behind the top three of Tagovailoa, Herbert, and Fromm, Love may have the best chance of emerging as the fourth 1st-round quarterback. He has similar physical skills to Marcus Mariota and led one of the nation's most productive offenses in his first season as a starter.
65. Deondrick Glass, Oklahoma St. RB (2022)
Glass is a sleeper in the incoming freshman class who didn't get a lot of publicity but was on the wishlist of many of the nation's top programs. He picked the Cowboys, one of Mike Gundy's biggest recruiting wins. Expect Glass to have an immediate impact and instantly force his way into a committee with Chuba Hubbard.
66. Jordan Whittington, Texas RB (2022)
Whittington was one of the biggest stars of the spring for the longhorn as an early enrollee. He primarily played wide receiver in high school and his receiving skills are elite for the running back position. He also has the size and toughness to run between the tackles. It is the type of skill set that could make him a fantasy force at the next level, which is why he has been my favorite late-round target in 2019 devy drafts.
67. Albert Okwuegbunam, Missouri TE (2020)
Okwuegbunam came from out of nowhere to catch 11 touchdowns in 2017. He had a bit of a down year in 2018, in part due to injuries and he somewhat surprisingly decided to head back to Missouri for his redshirt junior season. Okwuegbunam is big and fast but doesn't have the most well-rounded skill set.
68. Hunter Bryant, Washington TE (2020)
Bryant hasn't been able to stay healthy and the Washington pass offense has been a disaster in recent years, so the stats weren't very impressive even when he was on the field. However, he looks the part of a mismatch flex tight end in the mold of Jordan Reed or Irv Smith, Jr. If he can stay healthy, Bryant could emerge as a 2nd-round prospect next spring.
69. Jared Pinkney, Vanderbilt TE (2020)
Pinkney reportedly was told by the NFL that he carried a 2nd-4th round grade for the 2019 draft but still decided to return for his senior season. He has NFL size and speed , big-time production in the SEC, and should be one of the top tight ends off the board in 2020.
70. Cole Kmet, Notre Dame TE (2020)
Kmet is the pick to be the breakout tight end prospect of the 2019 season. He was highly recruited and flashed consistently while backing up Alize Mack last season. Kmet looks like a better prospect than Mack and could be yet another highly-drafted Notre Dame tight end following in the footsteps of Kyle Rudolph, Tyler Eifert, and others.
71. Anthony McFarland, Maryland RB (2020)
McFarland was part of a committee of backs at Maryland. His career so far has somewhat paralleled that of 2019 6th-rounder Ty Johnson. McFarland has broken off a number of long runs despite limited touches. He is a bit more solidly built than Johnson, which makes him a slightly better NFL prospect.
72. Graham Mertz, Wisconsin QB (2022)
After seeing the monster freshman season of Trevor Lawrence, everyone will be looking for the next instant impact freshman. Mertz isn't the generational prospect that Lawrence was and isn't the highest rated guy by the recruiting rankings but is my pick for the top guy in his class. He doesn't have elite physical traits but is above-average across the board and also has top-notch intangibles. Look for him to win the starting job early in the 2019 season.
73. Jacob Eason, Washington QB (2020)
Eason hasn't been able to fully put it together despite elite physical traits and reportedly didn't have a great spring. However, his talent level and the opportunity to learn under Chris Peterson make Eason an interesting boom/bust selection in deeper leagues.
74. C.J. Verdell, Oregon RB (2020)
Verdell emerged as the man in what started as a crowded Ducks backfield. He is slightly undersized but dynamic and productive.
75. Chris Olave, Ohio State WR (2021)
Olave wasn't a very highly-rated recruit but was still able to carve out a role as a true freshman at a position loaded with veteran talent. Olave has legitimate 4.4 speed and showed some nice ball skills as well in his late-season breakout.
76. Theo Wease, Oklahoma WR (2022)
Wease entered college as the consensus No. 3 wide receiver recruit in what many feel is the best class of incoming receivers in a long time. The Oklahoma depth chart is crowded and it will be interesting to see which of the Sooners three elite freshmen is able to emerge first.
77. Lynn Bowden, Kentucky WR (2020)
Bowden's stat line (67-745-5) doesn't look all that impressive on paper. However, given the extremely run-heavy nature of the Kentucky offense with Benny Snell and a run-first quarterback, Bowden's numbers are extremely impressive in context. Bowden is a talented players with the run-after-the-catch skills the NFL covets.
78. KJ Hamler, Penn State WR (2020)
Penn State has quietly been pumping out some strong wide receiver prospects in recent years (guys like Allen Robinson, Chris Godwin, and DaeSean Hamilton). Hamler looks to be next in line. He was the top pass catcher on the offense last season as a redshirt freshman and showed the explosiveness to take it to the house on any given play.
79. Jaelen Gill, RB/WR Ohio State (2021)
Ohio State has had success converting speedy high school running backs into dangerous slot weapons (who also get some carries). Parris Campbell and Curtis Samuel are two recent examples. Gill is in the same mold and also boasts elite speed. He is generating enough hype this spring to expect he will carve out a solid role in the fall as a redshirt freshman before taking over the starting job in 2020.
80. Tyler Vaughns, USC WR (2020)
Vaughns has 115 catches in two seasons and has proven a capable possession receiver for the Trojans. He will have a chance to make a big leap in 2019 if he can quickly adjust to the new air raid offense USC is installing under Graham Harrell.
81. Bo Nix, Auburn QB (2022)
Nix is one of the top freshman quarterbacks in the country and more than lived up to the hype as an early enrollee in the spring. In fact, Nix might be the favorite to start as a true freshman. He is a dual-threat quarterback who has a solid arm despite being slightly undersized. A Jake Fromm-like freshman season is the dream scenario for Auburn fans.
82. Matt Corral, Mississippi QB (2021)
Corral was one of the top-5 quarterback recruits in the 2018 class. He showed well in limited snaps as a true freshman behind Jordan Ta'Amu and will take over as the starter in the fall. He isn't a big guy but has a huge arm and above-average athleticism.
83. Spencer Rattler, Oklahoma QB (2022)
Rattler was the consensus top quarterback in the 2019 recruiting class. He is in a great spot with one year to get up to speed while backing up Jalen Hurts before presumably taking over as the starter in 2020. With the way the Sooners have been pumping out NFL quarterbacks lately, Rattler is worth targeting in deeper Superflex leagues.
84. Trejan Bridges, Oklahoma WR (2022)
Bridges was the 11th-ranked wide receiver in a loaded class nationally. Speaking of loaded classes, Bridges is only the third-highest ranked wide receiver in the Oklahoma freshman class. While Jadon Haselwood and Theo Wease get most of the hype, Bridges was arguably the most impressive of the trio in spring practice.
85. Terrace Marshall, LSU WR (2021)
Marshall was a top-15 overall recruit and 5-star in the 2018 recruiting class. He had a relatively quiet freshman year (12-192-0) and is running behind fellow sophomore Ja'Marr Chase heading into 2019 but still looks like a player with plenty of long-term upside.
86. Brandon Aiyuk, Arizona St. WR (2020)
Aiyuk is another late-round deep sleeper worth keeping an eye on. He stepped up in a big way when N'Keal Harry was out and put up similar numbers in his stead. He also has great size and speed, which could make him a mid-round pick next spring.
87. Anthony Schwartz, Auburn WR (2021)
Schwartz is the fastest player in college football (4.3 forty-times and world-class 10.1-speed in the 100-meters). He's not just a track star, showing some toughness and the ability to make guys miss. Schwartz was also pretty productive (568 total yards) as an 18-year old true freshman.
88. Tarik Black, Michigan WR (2020)
Black has been snakebitten with injuries robbing him almost entirely of his first two seasons in Ann Arbor
89. Jameson Williams, Ohio State WR (2022)
Williams was a top target for elite programs like Ohio State and Alabama. He also tested as the fastest player in the class with legit 4.4 speed. While Garrett Wilson will steal the spotlight, devy players shouldn't sleep on Williams and his early-round potential down the line.
90. Trey Knox, Arkansas WR (2022)
Knox was so dominant as an early enrollee in the spring, he already looks like he's locked up the #1 wide receiver role for the Razorbacks. He isn't the speediest guy and a conversion to tight end somewhere down the line could make him one of the top fantasy prospects at the position.
91. Marquez Stevenson, Houston WR (2020)
Stevenson doesn't seem to be on the devy radar for most but college DFS players certainly are well aware of Stevenson's dynamic big-play ability. He and quarterback D'Eriq King were fantasy stars last season and Stevenson has the elite speed and production to be a legitimate NFL prospect.
92. Niko Collins, Michigan WR (2020)
Donovan Peoples-Jones and Tarik Black get all of the headlines, but Collins made more impact plays last season. Contested catches are his speciality and that skill seems to have taken on a bit less importance in the NFL.
93. Marcus Crowley, Ohio State RB (2022)
Crowley had a strong spring as an early enrollee and should push sophomore Master Teague for the backup role behind J.K. Dobbins. Crowley has a bit more elusiveness than Teague and is probably a slightly better NFL prospect.
94. Lamical Perine, Florida RB (2020)
Perine emerged as Florida's top back in what is a deep backfield without any truly elite options. If he can build off of his late success, he could emerge as a mid-round prospect.
95. Brevin Jordan, Miami TE (2021)
Jordan caught 32 passes as an 18-year old true freshman. He has first-round potential down the road if he continues to develop.
96. Jeremy Ruckert, Ohio State TE (2021)
The consensus top tight end in the 2018 recruiting class, Ruckert was buried on the depth chart as a true freshman. When he does eventually hit the field for Ohio State, Ruckert should quickly emerge as the top Buckeyes prospect at the position in a long time.
97. Zach Moss, Utah RB (2020)
Moss was having a huge season before a season-ending knee injury derailed his junior season. Moss has been productive and boasts the build and skill set to be a three-down back. However, it is unclear if he has the talent to be more than a part-time player in the NFL like Devontae Booker.
98. Charleston Rambo, Oklahoma WR (2021)
Rambo steps into the role vacated by Marquise Brown and should put up big numbers in Oklahoma's high-flying offense. He flies way under the radar despite being a high profile recruit and locking down the #2 job ahead of some other very talented youngsters at the position.
99. Noah Cain, Penn St. RB (2022)
Cain should instantly compete for playing time with sophomore Ricky Slade and freshman Devyn Ford. All three are legitimate NFL prospects, so the pecking order at the position is worth watching closely this season.
100. Ricky Slade, Penn St. RB (2021)
Slade is a bit undersized but showed solid power between the tackles as a true freshman last season. With Miles Sanders off to the NFL, Slade should be the lead back in Happy Valley this season.