Photo: Tommy Gilligan, USA Today Sports
AFC
Buffalo
The Bills signed RB Damien Harris (New England) to a one-year deal.
Why It Matters: The Bills have been missing a no-nonsense power presence in the backfield, and Harris should provide it. This is a positive landing spot for him for fantasy, and could make him the most fantasy running back on the roster. James Cook should also see his role grow in his second season, but if Harris stays healthy, Cook's upside is capped. Nyheim Hines, who is very useful in the passing game, also lurks after having his contract restructured. This looks like the Eagles' three-headed backfield from last year, with Harris likely to lead the team in carries but possibly finishing second in rushing scores to the quarterback and sharing with two other undersized backs. The Patriots signed James Robinson earlier in free agency to replace Harris.
Cincinnati
The Bengals signed S Nick Scott (LA Rams) to a three-year, $12 million deal.
Why It Matters: Scott outperformed expectations after being drafted by the Rams in the seventh round in 2019. He'll step into a big role for the Bengals defense after they lost Jessie Bates and Vonn Bell in free agency and could be a hit in IDP leagues. This also highlights the dropoff in quality of play at safety, with 2022 first-round pick Dax Hill moving up to a foundational role and Scott likely becoming an every-down player, which could lead to more high-scoring games for the Bengals.
Bengals OT Jonah Williams has requested a trade.
Why It Matters: Teams considering taking an offensive lineman early in the draft could trade for Williams instead. Ian Rapoport of NFL Network reported that multiple teams are interested in the 2019 first-round pick, who is playing on the fifth-year option of his contract at a price of $12.6 million and will be a free agent next year. Williams is losing the left tackle spot to free-agent signee Orlando Brown, who, like Brown in 2021, is requesting a trade so he can play left tackle instead of right. Williams won't be cost-controlled like a draft pick would be, but he's a proven solid starter, even if he hasn't quite lived up to his #11 overall pick promise after tearing an ACL before playing a regular season game in his rookie year.
Cleveland
The Browns traded the #42 pick to the Jets for the #74 pick and WR Elijah Moore.
Why It Matters: The Browns could have a much different offense for Deshaun Watson's second year with Moore aboard. Amari Cooper, Donovan Peoples-Jones, and Moore give the team a strong trio of wideouts with quality play on the outside and speed from the slot. Moore and Watson get a boost in fantasy value, although the Browns moved their earliest pick in the upcoming draft out of the range where it's much more likely to get a long-term starter for two cost-controlled years of Moore. They'll have to sign Moore to a big deal to keep him in 2025 if he works out as a Brown, but the team will worry about that in the future, with a clear focus on winning now.
Houston
The Texans signed OT Laremy Tunsil to a three-year, $75 million extension.
Why It Matters: The Texans' moves this offseason show that they want to move out of the rebuilding phase soon, and having Tunsil protect the blind side of the quarterback they take at #2 is a good start. Right tackle Tytus Howard, who has been a hit despite being widely panned as a first-round pick in 2019, is playing under the fifth-year option of his rookie deal, so locking him up long-term should be the next step in this plan.
The Texans traded WR Brandin Cooks to the Cowboys for a 2023 fifth-round pick and a 2024 sixth-round pick.
Why It Matters: The Cowboys failed to adequately replace Amari Cooper last year, with free agent addition James Washington and third-round pick Jalen Tolbert failing to make an impact. Cooks should provide field-stretching speed and experience to help give what should be a run-heavy offense a vertical element in the passing game. This passing game will still run through CeeDee Lamb, but Lamb has more competition for targets. Cooks is due only 8 million next season and the Texans are picking up six million of the 18 million he is due this year, so this was a relatively affordable move for the Cowboys, who gave up a small amount of draft capital to get it done. DeAndre Hopkins should be the next veteran wideout to be moved by a rebuilding team.
The Texans signed RB Devin Singletary (Buffalo) to a one-year deal.
Why It Matters: Singletary should have a larger role behind Dameon Pierce than any of the backs on the roster last year had, but Pierce's fantasy outlook shouldn't be hurt that much by Singletary's arrival. Singletary has always produced when given a larger opportunity, but this offense probably won't be able to support two fantasy-relevant backs unless the quarterback they take at #2 is a rookie revelation.
The Texans signed TE Dalton Schultz (Dallas) to a one-year, $6.25 million deal.
Why It Matters: This is an underwhelming deal for Schultz, who got tagged by the Cowboys last season. The Texans will use multiple tight ends, and Brevin Jordan might have more to offer in the passing game than Schultz, who is a better blocker than Jordan. Jake Ferguson and Peyton Hendershot will replace Schultz for the Cowboys.
Indianapolis
The Colts signed QB Gardner Minshew (Philadelphia) to a one-year, $3.5 million deal.
Why It Matters: While we wait to see if the Colts will move up to 1.03 to ensure getting the third quarterback in the draft, sit pat at #4 and hope that no one leapfrogs them (or because they would be content with their third or fourth quarterback on the board), or becomes a surprise suitor for Lamar Jackson, we know who the backup/bridge quarterback will be. Minshew's play tailed off under new Colts head coach Shane Steichen last year, but the familiarity with the coach should be valuable as Minshew helps on-board whoever the team acquires as their franchise quarterback. If it is an elite rookie, it will be one of the more raw but exciting prospects (Florida's Anthony Richardson or Kentucky's Will Levis), so Minshew has a real shot to start Week 1 and beyond, which gives him some promise to grow his value in Superflex dynasty leagues.
Jacksonville
The Jaguars signed RB D'Ernest Johnson (Cleveland) to a one-year deal.
Why It Matters: The Jaguars finally signed an outside free agent of some consequence. Johnson will battle 2022 fifth-round pick Snoop Conner to back up Travis Etienne. Johnson was available on the trade market last year, but the Browns got no takers. He has been a quality producer when given a chance, so if he can win the #2 job and Etienne goes down at some point in the season, Johnson will have waiver-wire appeal.
New England
The Patriots signed TE Mike Gesicki (Miami).
Why It Matters: Gesicki only has something to offer in the passing game, which Miami found out the hard way after they franchise tagged him last year. The Patriots will employ him as a big slot, but it's unclear whether Gesicki can separate or add enough after the catch to justify putting him in that role. His athleticism and the need for reliable targets in the Patriots passing game will merit a late-round pick in redraft leagues. However, this could also be the last time we care about Gesicki in fantasy drafts if we still do enough to spend a pick on him this season.
New York Jets
The Jets traded the #74 pick and WR Elijah Moore to Cleveland for the #42 pick.
Why It Matters: Moore has been wrangling for a trade out of New York since last season, and the signings of Allen Lazard and Mecole Hardman cemented his fate. This gives the Jets the #42 and #43 picks, which allows them to send one to Green Bay for Aaron Rodgers and still get one of their top targets in the mid-second round. The draft capital return wasn't trivial, considering that Moore is only under contract for two more years.
The Jets signed WR Mecole Hardman to a one-year deal.
Why It Matters: This was the nail in the coffin of Elijah Moore's tenure with the Jets. Hardman will be the #4 (or #3 if Corey Davis is traded or becomes a cap cut) and provide speed on the outside and the ability to stretch the defense horizontally on jet (no pun intended) sweeps. He won't have much fantasy relevance, but he will be an important tactical element in the offense that helps make the whole unit run more efficiently and effectively. Kansas City should be making some sort of move at wide receiver after losing Hardman and JuJu Smith-Schuster, but they could also be counting on a big leap forward by 2022 second-round pick Skyy Moore and good health from midseason acquisition Kadarius Toney.
Pittsburgh
The Steelers signed OL Isaac Seumalo (Philadelphia) to a three-year, $24 million deal.
Why It Matters: The Steelers got one of the best interior offensive linemen on the market at a reasonable price. Seumalo, combined with last year's free-agent bargains Mason Cole and James Daniels, should give the team a solid group at guard and center after the team missed on 2021 third-round pick Kendrick Green. This should help Najee Harris, Jaylen Warren, and the running game continue to build on the momentum they had at the end of the season.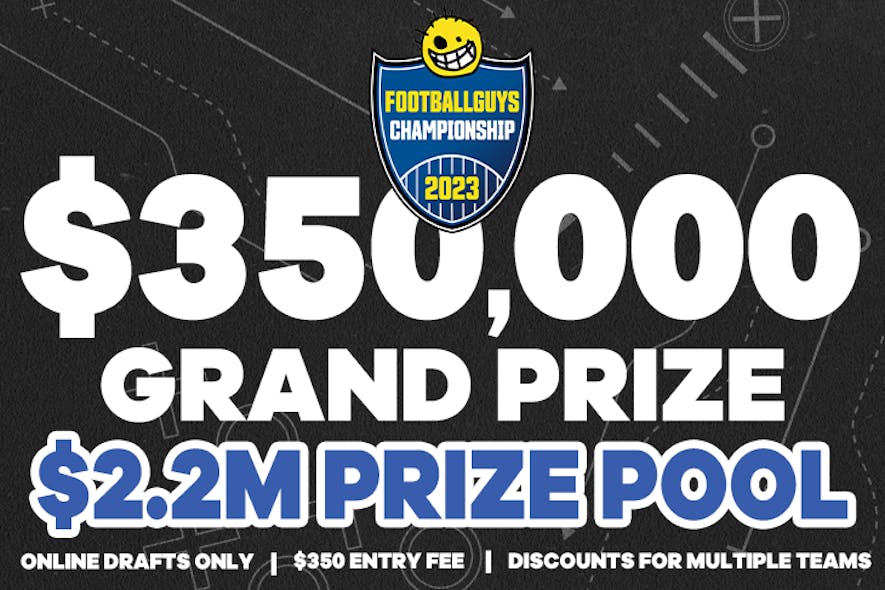 NFC
Atlanta
The Falcons signed WR Mack Hollins (Las Vegas) to a one-year, $2.5 million deal.
Why It Matters: The Falcons don't have an entrenched starter opposite Drake London, so Hollins should get the first shot at that job, even though it won't exactly be a fantasy-friendly role with Desmond Ridder at quarterback. Hollins was able to shine at times last year even though he played with Davante Adams, so keep him on your waiver wire watch list even though he'll play in one of the worst passing games in the league. His run-blocking prowess makes him a good fit for this run-first offense.
Carolina
The Panthers signed WR Adam Thielen (Minnesota) to a three-year, $25 million deal.
Why It Matters: Thielen is in line to lead the team in targets and catches, but it's unclear what that will be worth in an offense that will start a rookie quarterback or Andy Dalton. The Vikings moved on from Thielen after he was showing clear signs of decline, and their offense probably won't miss him. There's some potential PPR value here in the veteran, but chances are this season will show even further why the Vikings released him. This is a desperate move for an offense that needed some experience at wide receiver than a key to success for Frank Reich's new offense in his first year as head coach in Carolina.
Chicago
The Bears signed RB D'Onta Foreman (Carolina) to a one-year, $3 million deal.
Why It Matters: This sets up the Bears to have a strong three-headed backfield if we count Justin Fields as the third head. While this might be seen as bad for Khalil Herbert, who had only the briefest of reigns as the clear lead back in Chicago, we knew the Bears would make a move at running back, so adding a player of Foreman's caliber on only a one-year deal leaves the door more than cracked open for Herbert to assert himself as the team's best back right now and lead back of the future. Herbert is still a good dynasty and redraft buy.
Dallas
The Cowboys traded a 2023 fifth-round pick and a 2024 sixth-round pick to the Texans for WR Brandin Cooks.
Why It Matters: The Cowboys pass offense improves with this signing if they want to make it a front-facing aspect of the offense after Mike McCarthy extolled the need to run more and pass less after the team hired Brian Schottenheimer, who isn't known for his ability to construct a quality passing game. The Texans are paying a good chunk of Cooks' salary this year, he's affordable next year, and the Cowboys didn't give up much. So it's a good deal, but just how good will depend on whether this is a 20th- or 21st-century offense.
The Cowboys signed RB Ronald Jones II (Kansas City).
Why It Matters: While we wait to see if the team takes a back early in the draft, this might be the most significant move they make to replace Ezekiel Elliott. Jones was signed to a prove-it deal by Kansas City last year and only proved that he didn't deserve to play over seventh-round pick Isaih Pacheco. Jones isn't a sure thing to make the team, but if the Cowboys don't add another back, watching to see whether he can beat out 2022 UDFA hit Malik Davis will be important because Tony Pollard is coming back from leg surgery.
Detroit
The Lions signed DB Chauncey Gardner-Johnson (Philadelphia) to a one-year, $8 million deal.
Why It Matters: General manager Brad Holmes has done a terrific job filling holes in the secondary at a reasonable price. Gardner-Johnson joins Emmanuel Moseley and Cam Sutton from the first wave of free agency to give the team versatile, accomplished players on short-term deals that should lead to long-term contracts or compensatory picks. The Lions should be considered the favorite in the NFC North right now. Let that sink in.
New York Giants
The Giants re-signed WR Darius Slayton to a two-year, $12 million deal.
Why It Matters: The Giants didn't make a splash at wide receiver in free agency, so Slayton is set up to start and be a top three option for the team along with Isaiah Hodgins and free agent signing Parris Campbell. Darren Waller could lead the team in targets and catches if he stays healthy, but Slayton is the most valuable wideout on the top for fantasy leagues. What this is worth is questionable, but Slayton's speed and deep ball chemistry with Daniel Jones makes him a savvy late-round best-ball pick.
Philadelphia
The Eagles signed QB Marcus Mariota (Atlanta) to a one-year, $5 million deal.
Why It Matters: Jalen Hurts did miss some time last year, and Gardner Minshew showed fantasy relevance in the backup role, even if his play deteriorated the longer he was in for the Eagles. Mariota is a good fit for this offense and should be on our waiver wire speed dial list (even in 1QB leagues) if Hurts goes down.
Seattle
The Seahawks re-signed QB Drew Lock to a one-year, $3.5 million deal.
Why It Matters: Lock was supposedly in a quarterback competition with Geno Smith last offseason and preseason. But that got settled quickly, and it was cemented on the field. The team liked him enough to bring him back as a backup at a very affordable price, but that doesn't mean he'll have value in 1QB leagues if Smith misses time. The Seahawks could still move up from or take a quarterback at #5 to make Lock expendable.