Photo: Kyle Terada, USA Today Sports
Before we go forward, it's time to look back and ask the question, "What exactly did we learn playing fantasy football in 2022?". Then we should ask, "How can we use this hard-earned knowledge to be better in 2023 drafts?" We will end with tight end, a position with one player to rule them all in 2022.
Note: All ADP data is courtesy of Underdog (Sign up with the code "Footballguys")
It's Travis Kelce's world, we're just living in it.
Kelce was 5.8 PPR points per game better than the #2 option at tight end, which is astounding. That doesn't tell the whole story. Kelce was only below 15 PPR points in 4 out of 16 games. The #2 tight end, T.J. Hockenson, was above 15 PPR points only four times, and 9.6 was his lowest score of the season. The #3 tight end, George Kittle, was above 15 PPR points five times but was below 7 PPR points six times out of 14 games. The #4 tight end, Mark Andrews, eclipsed 15 PPR points five times, the same number of times he was below 7 points. Kelce didn't just outpace the competition, he was never a lineup liability.
What We'll Do in 2023: Kelce's ADP is up from around the 1/2 turn last year to fourth or fifth overall in early Underdog drafts. That seems a little steep in Best Ball, where you can cobble together the peaks of a three-man committee, but it's justified in redraft leagues, where you are risking a lineup landmine with any other tight end.
Whether it's him or his situation, Kyle Pitts isn't there yet.
Pitts didn't live up to his third-round ADP in 2021 but still had a remarkable statistical season by rookie standards, creating enough optimism to put him back in the third round as TE3 in drafts in 2022. His sophomore campaign was underwhelming, to say the least. On a points-per-game basis, he was sandwiched between Tyler Conklin and Noah Fant at TE21. He also missed the last five games. The Falcons had poor quarterback play and a painfully run-heavy offense. Pitts wasn't a full-time player, the team didn't use him creatively, and he didn't transcend his poor situation and usage. It's hard to say where the critical point of failure is because nothing went right for Pitts. Even his two solid (13+ point) games were bookended by sub-five-point games.
What We'll Do in 2023: Will the Falcons have a new quarterback? Should we listen to anything coming out of Atlanta about Pitts' role or game growing? Will the acquisition of Jonnu Smith help or hurt Pitts' numbers? Pitts is TE6 in early drafts, going in the sixth round, which is a fraction of the third-round price he carried in each of the last two years, so it's tempting to consider mixing him into your draft plan at a discount price.
It doesn't matter if Taysom Hill is ACTUALLY a tight end.
The Saints were supposed to go with Jameis Winston full-time in Dennis Allen's first season as head coach, which freed up Taysom Hill to be used more as a tight end, which gave him tight end eligibility in fantasy leagues. Winston reverted to his pre-Sean Payton form and gave way to Andy Dalton, which opened the door for Hill to get more snaps as a running quarterback because it was actually one of the most effective modes for this very limited offense. Hill finished the season with four straight 11+ PPR point games, good enough for TE6 from Weeks 13-17. He was TE12 on the season, just below Pat Freiermuth and Darren Waller on a points-per-game basis.
What We'll Do in 2023: Sean Payton has suggested that he would trade for Hill, but Hill's 9.9 million dollar price is a tough pill to swallow, so he's likely going to remain a Saint, although the team signed Derek Carr, so Hill might get fewer quarterback snaps if Carr is better than Andy Dalton. He's currently TE17 and going around the 12th/13th round in early drafts, which is a reasonable price, especially in best ball.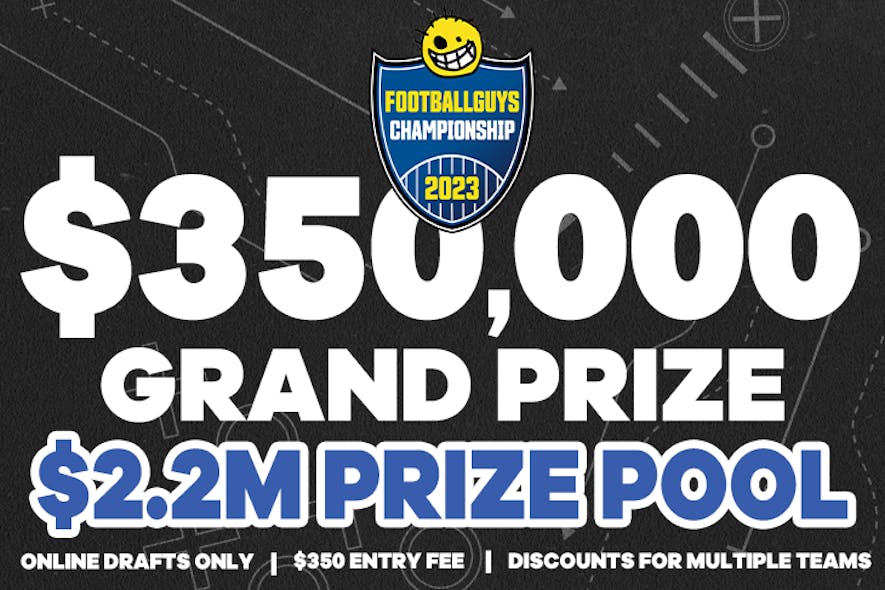 Second- and third-tier tight ends ranged from mild successes to mild disappointments.
The #2 drafted tight end after Travis Kelce, Mark Andrews, had a scalding stretch of four 22+ point games in five from Weeks 2-6. But then he dropped off as he didn't look like himself, and the Ravens offense died a slow death once Lamar Jackson went out before a 19+ point outburst in Week 17. We already discussed the #3 tight, Kyle Pitts. TE4, Darren Waller, only played in eight games and finished as TE9 on a points-per-game basis. TE5, George Kittle, finished as TE3 and was a clutch 25+ point scorer in Weeks 15 and 16, so he justified the investment. TE6, Dalton Schultz, had some injury issues that coincided with his quarterback Dak Prescott being out, but he was TE7 from Weeks 7-17, so he was worth the pick. TE7, T.J. Hockenson, was TE2 on the season, and after he joined the Vikings via trade in Week 9, he was only 3.6 points per game behind Kelce, and he outscored Kelce three of four games between Weeks 14-17. He was a success after a slow start with the Lions, save for a 39.9-point Week 4 outburst. TE8, Dallas Goedert, was TE5 on the year, only falling below 7.5 PPR points once, but also missed five games. No other tight end was consistently going in the Top 100 of drafts.
The TE5-TE9 tier was almost as good as the TE2-TE4 tier was bad. If you didn't get Kelce, patience was rewarded at tight end.
What We'll Do in 2023: Andrews, Hockenson, and Kittle are in the 33-46 overall range as TE2-4 this year, which is lower than TE2 and TE3 last year, but higher than TE4. It's probably better to wait on a cheaper option with a higher ceiling like Pitts or a cheaper high-floor option like David Njoku. But if Lamar Jackson stays in Baltimore and stays healthy, Andrews could be a hit, and Hockenson would be a good pick if he picks up where he left off last year.
If you didn't take a Top 10 tight end, you could still get by.
Engram was up and down with only modest ups for most of the season but came on to be the #1 tight end from Weeks 13-16, averaging over 21 PPR points per game and 4.85 points more than the #2 tight end over that stretch, George Kittle. He was going around the 15th or 16th round in 2022 drafts. David Njoku went around the 13th-14th round in drafts and finished as TE8. He was better with Jacoby Brissett than he was with Deshaun Watson. Tyler Higbee went in between Engram and Njoku in drafts, and he was TE5 over the first four weeks as the Rams limped out of the gate. Those were the biggest hits of the tight ends that went outside of the top 10 at the position. Pat Freiermuth, Gerald Everett, and Hayden Hurst were serviceable, and all had at least one stretch of three double-digit point games in a four-game span.
What We'll Do in 2023: Don't feel forced into taking a Top 10 tight end, especially in best ball. Freiermuth, Everett, Hill, Dawson Knox, Zach Ertz, and a whole host of ascending second-year tight ends are going outside of the Top 10 at the position and Top 100 of early Underdog drafts.
Russell Wilson impacted tight end value more among the options he didn't play with than the ones he did play with.
Like at wide receiver, you were better off taking Wilson's former teammates than his current teammates. Albert Okwuegbunam was a disaster, but at least clearly droppable after two to three weeks, while Noah Fant and Will Dissly had some windows of value in Seattle, and Wilson's 2021 tight end Gerald Everett had three double-digit games in the first four of the season.
What We'll Do in 2023: Greg Dulcich actually had five double-digit games in nine contests with Wilson. With Sean Payton in Denver, Dulcich is going in the 11th round as TE14, a reasonable price for a player on the rise in an improving situation. Keep tabs on Albert Okwuegbunam, as he could matter again with a fresh start.
It was better to pick up another team's trash than to look for treasure on the waiver wire.
Dulcich, Tyler Conklin, and Juwan Johnson were the best scorers among the players who didn't merit a Top 200 pick in 2022 Underdog drafts, which is to say that if you had to rely on the waiver wire, you were probably going back to the waiver wire in a week or two unless someone dropped Njoku or Engram prematurely, which certainly happened in more than a trivial number of leagues. Hayden Hurst and Cole Kmet also had slow starts and might have been available to contribute productive mid-season stretches. If you had to resort to the waiver wire, betting on someone else being unwise was more rewarding than trying to find the option everyone overlooked in the draft.
What We'll Do in 2023: Consider team builds with two or three tight ends if you don't take a Top 10-12 option instead of taking one late-round option and hoping to catch lightning in a bottle off of the wire, but if you do have to turn to the free agent pool, watch closely who is dropped out of a fit of early season impatience.
The 2022 draft class will give us more viable fantasy options than expected.
No tight ends went in the first round of the 2022 draft, and only one went in the second round - Trey McBride to the Cardinals at #55. McBride's role grew as the season went on after Zach Ertz went out for the year, and he was the #2 scoring tight end in Week 17. Cade Otton, Daniel Bellinger, Jelani Woods, and Chigoziem Okonkwo all came on to be regular contributors in bigger-than-expected roles, and we also covered Dulcich above. Even Jake Ferguson and Peyton Hendershot looked good enough to allow the Cowboys to let Dalton Schultz walk this year. Early indications are that this group will outperform draft capital invested sooner than later.
What We'll Do in 2023: Optimism around Dulcich has elevated him into the Top 150 in early drafts, and Okonkwo is going only a round after him, but McBride, Otton, Bellinger, and Woods are available for couch cushion change in early drafts and should contribute at least a handful of usable weeks in Best Ball, if not end up hitting as one of the best sleeper picks on the season as the game slows down for them in central year two roles.